While consumer drives are a quieter, lower cost option they are better suited for desktops and laptops and some lower-cost workstations. When you need reliability, high performance at a larger capacity - enterprise drives are the best option for a trouble-free operation.
Where most consumer class hard drives are designed for single desktop operations - they can only handle 25-30 TB workload per year. Consumer drives also are known to have higher random failure rates and those rates go up dramatically once they have been heavily used.
With consumer drives, in a massive RAID configuration, if a drive fails, a replacement and re-sync will occur. This will greatly increase the cumulative workload on that drive - upping failure rates and more re-syncs until drives are unusable. We suggest that consumer drives only be used in very specific circumstances, namely if (a) data workload is small (i.e. very cold storage applications) and (b) RAID is not used; or if it is, RAID arrays are small to limit re-syncing load (which is of course non-linear).
Please note that if you are running active storage on consumer drives you will experience drive failures, ongoing replacements and your servers and hard drives will most likely be over-worked due to numerous re-syncing. We highly recommend using enterprise drives for NAS and data centers for best performance. Please see below for enterprise hard drives we supply and their benefits.
Hyperscale Efficiency, Lowest TCO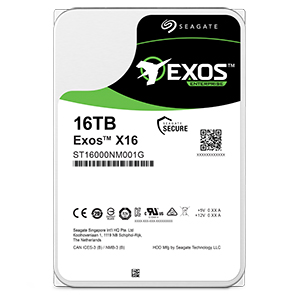 Seagate brings innovative helium technology to the Exos™ X16 hard drive. The drive is designed for maximum storage capacity and the highest rack-space efficiency provided by 45 Drives' Storinator. Protected with Seagate Secure™ technology, and delivering 16 TB capacity, the Exos X16 enables the fastest data transfers in the datasphere. The advanced helium technology supports low power and weight. Count on the greatest efficiencies and highest storage densities.
Exos X16 is the best fit for the following applications:
Massive scale-out data centres Why choose the Exos X16 hard drive? Maximum storage capacity for the highest rack-space efficiency
Customizes your bulk storage requirements with PowerBalance

™

and RAID Rebuild®
Scales to meet your growing capacity with the highest rack-space efficiency
Fastest data transfers in the datasphere
Optimum data centre that is TCO-architected to offer low power and weight
Simplified infrastructure management with a single FastFormat

™

advanced format feature (4Kn and 512e) ensures you're ready for today and in the future
Hardware-based security in which Seagate Secure

™

models provide best data protection for data-at-rest
Safe, fast and easy drive retirement, thanks to the Instant Secure Erase feature that helps to lower TCO
But what does this translate to in actual practice?

One example we can share is from our years of experience of burn-in and testing of 100% of the Storinator® servers that we manufacture. This occurs immediately after production, before they are shipped to their new owners. We install a full set of drives, sync a RAID array, and transfer hundreds of Terabytes to test functionality of the unit. The drive sets used for this activity are thus very heavily used. When using consumer drives, we would get about 6 months from a set. Then, about 5 years ago, we switched to enterprise grade drives and those drives are still working flawlessly, and still have a year left on their warranty!