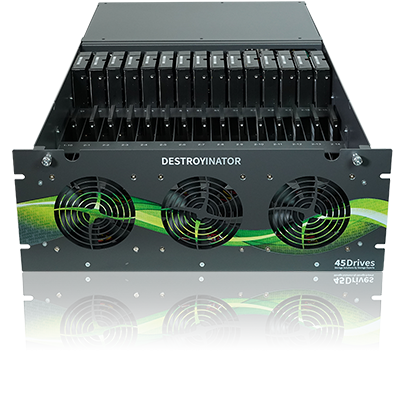 The Destroyinator offers built-in customizable certificate and label-printing tools for records and accountability – ensuring when you wipe a disk, that data is gone forever. After each erase/wipe completion, create a custom certificate that can be saved as a PDF.
The best part about this server? It's super simple to use and can be programmed to perform actions on a disk as soon as it is connected, meaning you can examine, erase and print a certificate by simply plugging in a hard drive.
Mixed Batches




Wipe both 3.5" & 2.5" mechanical drives
as well as SAS & solid-state drives.

Wipe Permanently




HIPAA compliant - supports U.S. DoD erasure and dozens more.

Clone Disk or Image




Easily clone a master disk or image to newly sanitized disks
Software
The Destroyinator is preloaded with KillDisk Industrial an industrial-grade disk sanitation software.
This server includes a Killdisk license for 1 year which offers direct software support from KillDisk. This supports an addon to the 45Drives support you get with your Destroyinator.
You can also examine old disks for bad sectors prior to erasure and view drive health parameters. Tools such as SMART monitor, File Browser & Hex Viewer give you a complete knowledge, control, and overview of your hard drives.
Support
When you choose a 45Drives storage server you get an extremely reliable, affordable, enterprise product and a whole team to help you every step of the way. Learn More
Models
Destroyinator Payback Calculator
Does your current data erasure system have a licensing fee on every erased drive? If those fees were eliminated, how quickly would your investment in a Destroyinator pay for itself?
Use our calculator below to get a feel for how short the payback period will be and how quickly you can improve your profitability.