Asset Disposal is one of the United Kingdom's leading providers of IT disposal and data destruction services. By following the EU privacy and protection acts, they assist businesses with disposing of IT with confidence and overcome the many challenges that the disposal of IT and data destruction brings.

Asset Disposal has assisted over 750 organizations in safely removing and disposing of their old IT according to the "General Data Protection Regulation" and the "Waste Electrical and Electronic Equipment Directive (WEEE)".
Dealing with Plenty of Data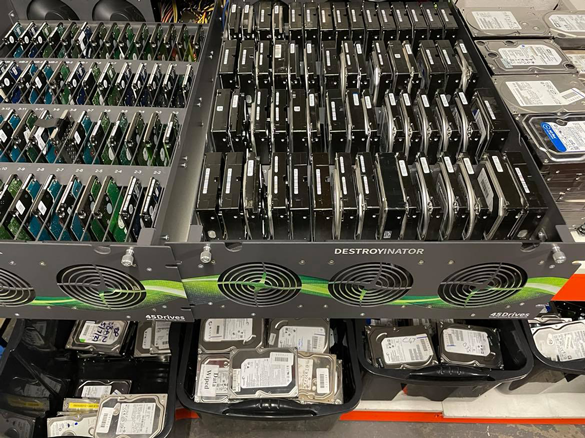 Asset Disposal disposes of a large volume of drives. They wanted a data-destruction solution that would increase their efficiency when disposing of drives, as Nathan McBride, Hard Drive Technician at Asset Disposal, explains.

"All our customer's data needs to be destroyed in line with GDPR to ensure their sensitive data is kept secure and never retrieved. Previously we used 18 individual intel 4 GB ram hard drive docking stations, which each required their own power source and cables connections."

The multiple separate stations were not as efficient as a single unified system would be.

"We at Asset wanted a well-rounded, versatile machine that supported the use of both SATA and SAS hard drives. With this, the volume of drives the device could process in a single session was a big factor. Asset wanted to take advantage of the latest tech that is on the market to get ahead of our competitors by increasing productivity and reducing the time needed to destroy data."
Working with 45Drives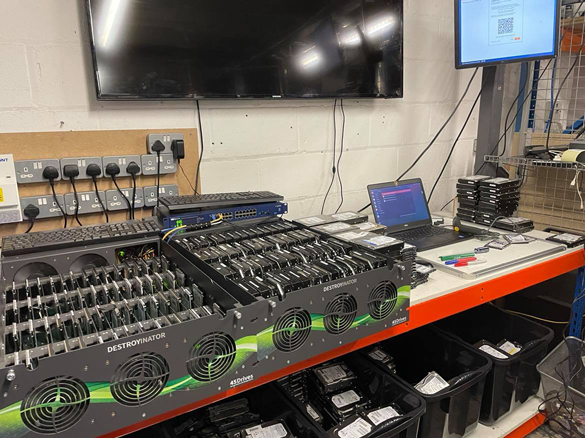 Asset Disposal chose the Destroyinator for several reasons. First, effectively it helped them increase their efficiency during the hard drive disposal process.

"It makes the process of destroying data on hard drives much more efficient in terms of speed and ease of use. We can simply put the drives into the Destroyinator without the need to connect each device. I would highly recommend the Destoyinator as a solution for businesses looking to improve the overall efficiency of operations while reducing the risk associated with individual docking ports."

Nathan went on to say, "the compactness of it all made it so much tidier with fewer wires, which also helped us with the limited space that we have."

The Destroyinator would help Nathan and Asset Disposal reduce power consumption and increase safety with its built-in cooling system, minimal wires, and single-port power connection.
Conclusion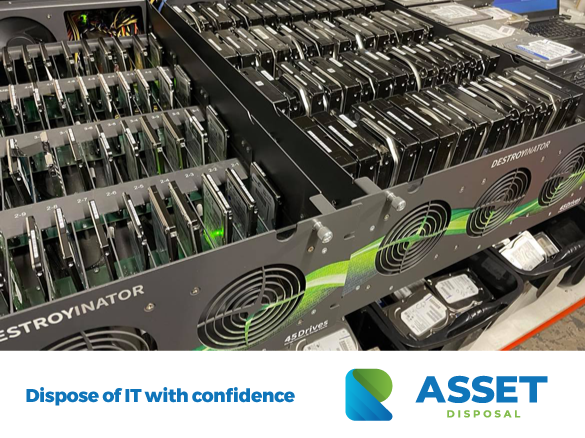 Through implementing a Destroyinator into their data destruction workflow, Asset Disposal has been able to keep up with the ever-increasing number of drives their customers entrust to them.

"I would highly recommend the Destroyinator as a solution for any businesses looking to improve their overall efficiency of operations while reducing the risk that is associated with the individual docking ports."