Storinator S45:
The classic ultra high-powered storage server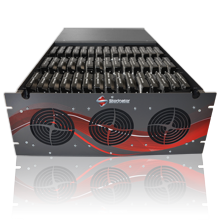 The classic fully featured S45 is the 45-drive model that started it all (even our name!) Complete with two 10-GbE and one 1Gbe NICs and redundant boot drives, the S45 offers 810TB of RAW storage using 18TB drives.
Ideal for any situation
, the S45 is a customer favorite for any industry. The S45 comes in multiple standard CPU/Memory/Motherboard configurations, enabling you to choose your required specifications.
Product Features:
IPMI - Remote system management and monitoring.
PMBus - Remote power management of individual modules as well as power statistics
Redundant boot drives
Choose an S45 Configuration ↓
Base

CPU: E3-1220 RAM: 32GB ECC Motherboard: X11 SSM-F Boot Drives: 2 x 120GB SSD HBA Card: 3 x LSI 9305 12Gb/s * As low as: $6,735 Build

Enhanced

CPU: Xeon Silver 4210 RAM: 32GB ECC Motherboard: X11SPL Boot Drives: 2 x 120GB SSD HBA Card: 3 x LSI 9305 12Gb/s * As low as: $7,407 Build

Turbo

CPU: 2x Xeon Silver 4210 RAM: 32GB ECC Motherboard: X11DPL Boot Drives: 2 x 120GB SSD HBA Card: 3 x LSI 9305 12Gb/s * As low as: $8,310 Build
* when configured with a non-redundant power supply