Do you know how to build a better storage pod?
45 Drives & Protocase specialize in turning your computing ideas into real products. That's why Backblaze came to us... It's what we do.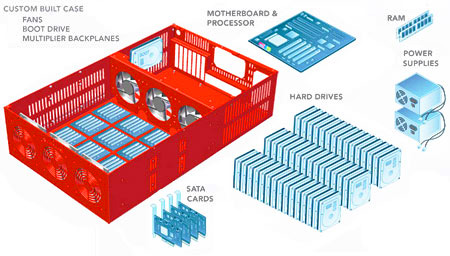 If you see a way to build a computer system that better serves your needs, come talk to us. We can combine your specialized knowledge with our expertise in enclosures and manufacturing, to create solutions like the Backblaze® storage pod. A huge market is not necessary - we have created cost-effective solutions for our clients at quantities as low as 'one'. This can be done on a proprietary basis where you own all the rights, or, like Backblaze, you could choose to share your design with others. We work with clients whose expertise in enclosure design varies dramatically (we can work with anything from a fully detailed CAD drawing, down to a napkin sketch or verbal description).
Backblaze® and many other companies have had great success working with us. Why not see what you can create? Contact our sales representative now to get started!