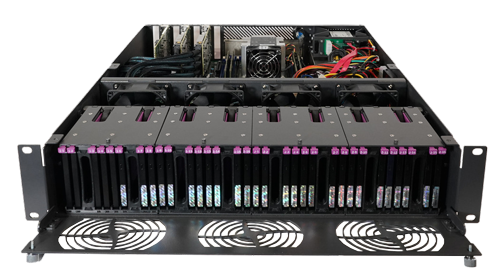 Engineered for Performance
This all-flash server is designed to deliver redundancy and reliability while quickly moving massive amounts of data.

The 32-bay all-flash storage server offers low-latency performance that is affordable for all industries. With the Stornado's smaller form factor, you'll achieve greater densities, best performance and fast access to your data while saving energy costs due to a decreased power draw.
Stornado Hardware Features:
Half the Height / Double the Density (32 bays)
Front Loaded SSD Drive Insertion and Removal Mechanism
Ejection rod labelling for easy drive location
Removeable boot-drive bracket for easy access
SATA Drives Now, NVME Drives Coming Soon
Completely toolless
Software
The Stornado is software agnostic. This server offers the freedom to run any software you choose, including Linux, CentOS, Debian, FreeBSD, Windows Server, and NAS software. Storinator servers will also run cluster software such as Ceph.
Futureproofing
This ultra-dense 2U storage server offers easy storage scalability. Scale your SSD storage by simply adding more SSDs into a single unit or adding units as separate servers or part of a cluster.
Support
When you choose a 45Drives storage server you get an extremely reliable, affordable, enterprise product and a whole team to help you every step of the way. Learn More
Models
SATA

Enhanced

Starting at: $7,896.74

Build & Price

Turbo

Starting at: $9,987.43

Build & Price