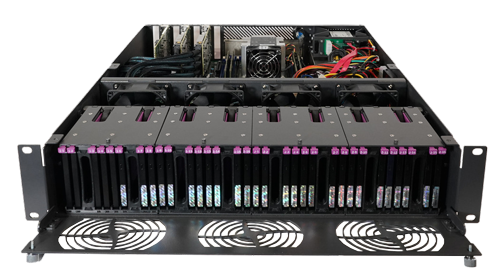 The Stornado can be deployed as a single unit or as a part of a clustered solution. This ultra-dense 4U rackmount server offers easy storage scalability and unmatched performance.
Easily scale storage by simply adding more SSDs into a single unit, or adding units as separate servers/part of a cluster.
Flexibile




Available with 32 drive slots
for up to 243TB of SSD Storage
in a single server.

Massive




Keeps all your files in one convenient, centralized location - while SSD's allow for ultra-fast access.

FAST




Random Read 4k IO/s: 732000
Random Write 4k IO/s: 728000
Software
The Stornado is software agnostic. This server offers the freedom to run any software you choose, including Linux, CentOS, Debian, FreeBSD, Windows Server, and NAS software. Storinator servers will also run cluster software such as Ceph.
Support
When you choose a 45Drives storage server you get an extremely reliable, affordable, enterprise product and a whole team to help you every step of the way. Learn More
Models
Enhanced

Starting at: $9,931.00

Build & Price

Turbo

Starting at: $12,475.00

Build & Price

ENHANCED
TURBO
CPU
CPU Model
Intel Xeon Silver 4110
Intel Xeon Gold 6230R
CPU Architecture
64-bit
64-bit
CPU Frequency
8-Core 2.1 (base) / 3.0 (turbo) GHz
26-Core 2.1 (base) / 4.0 (turbo) Ghz
Memory
System Memory
16 GB DDR4 ECC RDIMM
32 GB DDR4 ECC RDIMM
Total Memory Slots
8
8
Memory Expandable up to
512 GB (64 GB x 8)
512 GB (64 GB x 8)
Motherboard
Make
SuperMicro
SuperMicro
Model
X11SPL
X11SPL
Power
Power Supply Unit
850W ATX Standard
850W ATX Standard
Redundant Power
1400W 2N Redundant (option)
1400W 2N Redundant (option)
Storage
Drive Bays
32
32
Maximum Internal Raw Capacity
243.2TB


( * using 7.6 TB Drives )

Hot Swappable Drive
Yes
Yes
PCIe
PCIe Expansion
2 PCI-E 3.0 x8 (in x16 slot)
4 PCI-E 3.0 x8
1 PCI-E 3.0 x4 (in x8 slot)
2 PCI-E 3.0 x16
3 PCI-E 3.0 x8
1 PCI-E 3.0 x4 (in x8 slot)
Network Ports
1Gbe LAN Port
Dual 1Gbe on board
Dual 1Gbe on board
10Gbe NIC Option
Optional NIC (RJ45 or SFP+)


(Included on all S45 & XL60 Models)

Optional NIC (RJ45 or SFP+)


(Included on all S45 & XL60 Models)

25Gbe NIC Option
Optional NIC (SFP28)
Optional NIC (SFP28)
40Gbe NIC Option
Optional NIC (QSFP+)
Optional NIC (QSFP+)
Chassis
Form Factor (RU)
4U
4U
Dimensions
20.000"L x 17.125" W x 7.000"H
Weight
45 LBS (With 32 SSDs: 48 LBS)