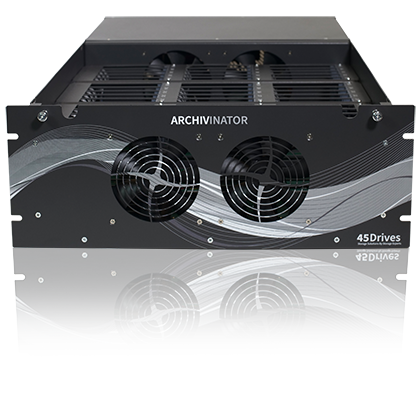 The Archivinator is designed specifically to hold massive amounts of cold-storage while maintaining reliability, security and durability. Unlike LTO (linear tape-open), the Archiver requires minimal maintenance and attention.
The best designed storage server for retention of inactive data. Some cold storage servers barely move, but the Archivinator response and data retrieval times move faster than competitors.
Flexibile




Available in
15, 30, 45 and 60 drive
configurations.

Affordable




The Archivinator is equipped with a 5-port backplane that uses a port multiplier. It's a simple and affordable way to provide high-density data storage.

Massive




Keeps all your files in one convenient, centralized location.
The Archivinator is best suited for streamlined data, surveillance and large sequential data users.
Support
When you choose a 45Drives storage server you get an extremely reliable, affordable, enterprise product and a whole team to help you every step of the way. Learn More
Models