I hope you're sitting down while you're reading this; because we're about to go for a little journey. In my last article here on 45 Drives, we discussed how a super dense and efficient system revolutionized my lab and media design. Specifically, we focused on the Storinator Storage Workstation.
Today, we take a deeper dive into my ecosystem to really understand what this machine has been doing and why I think it's a must have for SMBs, at-home users, media enthusiast, or those building out their own lab environment.
A Marriage Made in Private Cloud Heaven
Have you heard of Unraid? No? Feel free to pause here and give them a search.
In my own experience working with a lot of different types of storage and storage virtualization (software-defined storage) solutions, both enterprise and SMB, Unraid is easily one of the best platforms out there for the SMB and even home user. Basically, Unraid is an OS (or software-defined storage system) that's specifically designed for personal and small business use. It incorporates enterprise-class features that let you configure your computer systems to maximize performance and capacity using any combination of applications, VMs, storage devices, and hardware. Words don't do it justice; you really should check them out.
However, Unraid really only performs as well as the underlying infrastructure. This means that my success with them is always limited to the hardware underneath. This is why, and this point is important, this is the 6th iteration of my lab rebuilds. All of my builds have been lacking something. Challenges with capacity, lack of physical space in a storage appliance, not enough compute or resources, unmanaged switches not capable of layer 2 and beyond networking, and even cooling have all been issues! (Side note on cooling: The Storinator actually has a really interesting design with three big fans constantly moving air and are situated right beside the drives. Another plus, it's really not loud at all.)
This is Why Mark VI is the Best Iteration
To give you a quick lab architecture, I've got a Cisco Meraki MX appliance for my firewall and a Meraki MS switch as my networking device. From there, I've got a Dell PowerEdge T630 with lots of RAM and CPU for processing virtual machines and appliances. On that same machine there are two small SSD drives for a bit of local storage for the hypervisor. Sitting right next to it in my half-rack is my 45Drives Storinator Storage Workstation. There, we have an array of 8 spinning disk devices providing 36TB (upgraded since the last article) of general space and 9 cache pool (SSD) devices providing 3.6TB of cache storage for my vDisks and VM storage.
Here's an overall snapshot of the environment: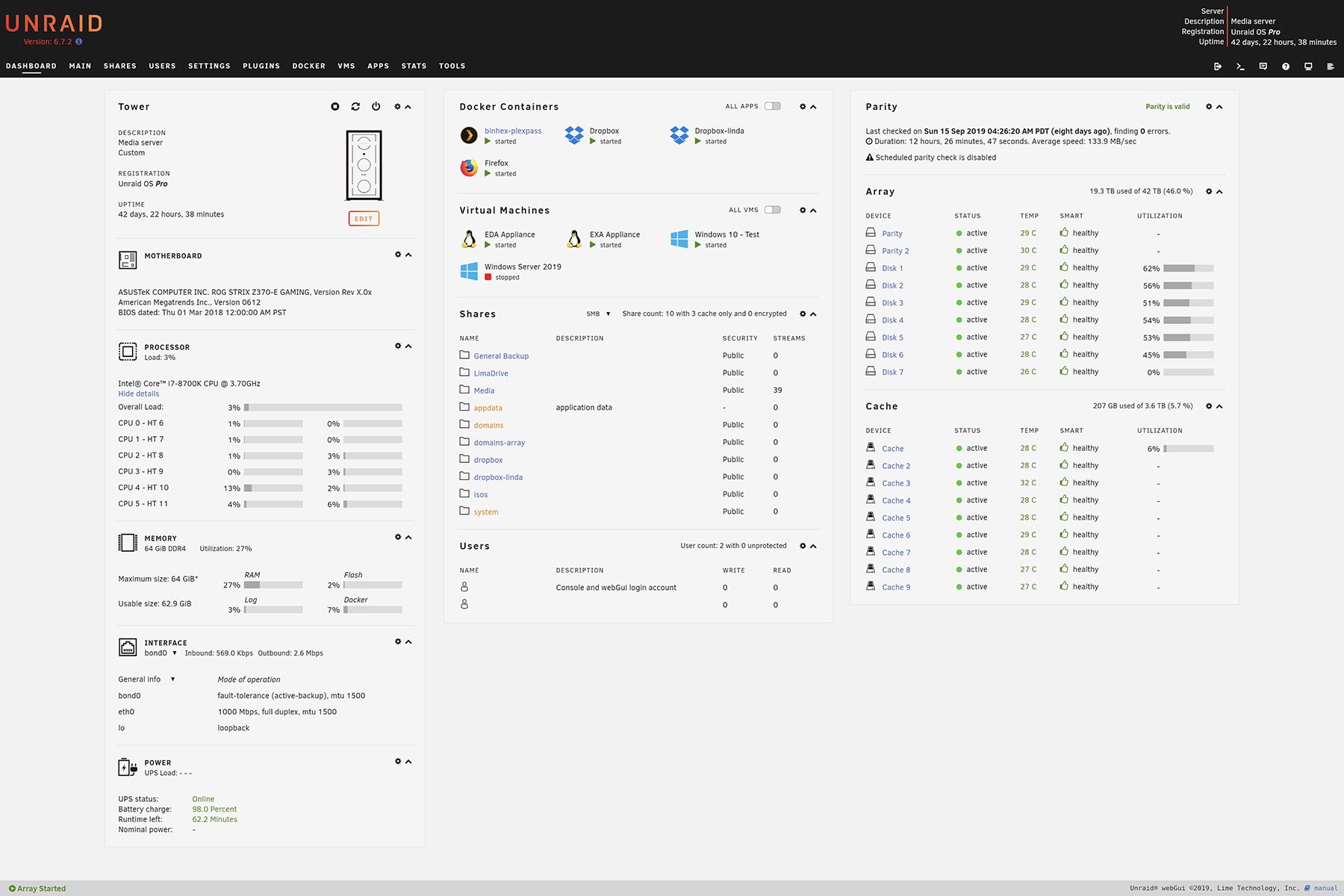 This is the main dashboard for Unraid. If you take a close look, you'll see that Unraid has A LOT of widgets and plug-ins. For example, at the lower left, you'll see UPS battery metrics. I've got a USB cable that's plugged in from my rack-mounted Schneider Electric APC battery right into the Storinator Storage Workstation for seamless USB passthrough. The data is then fed into Unraid and it can control VM shutdown and other spin up/spin down operations.
With that in mind, it's the specs on the actual Storinator that give me so much performance. Here's what's under the hood for the Storinator:
Motherboard: ASUS ROG Strix Z370-E
CPU: Intel Core i7-8700K
RAM: CORSAIR 16GB DDR4
Power Supply: Corsair HX850i
Boot Drive: HP S700 Pro SSD
HBA: LSI 9631-24i

From there, you can scale up to 132TB of available raw storage and up to 61TB of available raw high-speed storage! That's a lot.
Jumping back into the lab, Unraid is the baremetal OS that I've deployed right on top of the Storinator Storage Workstation. But you can just as easily deploy a Linux build or a full Windows desktop or server OS. For me, Unraid made the most sense. Within Unraid, again running right on top of the Storinator, I've got a really cool private cloud and virtualization ecosystem.
First of all, I'm running both VMs and containers right from the Unraid ecosystem.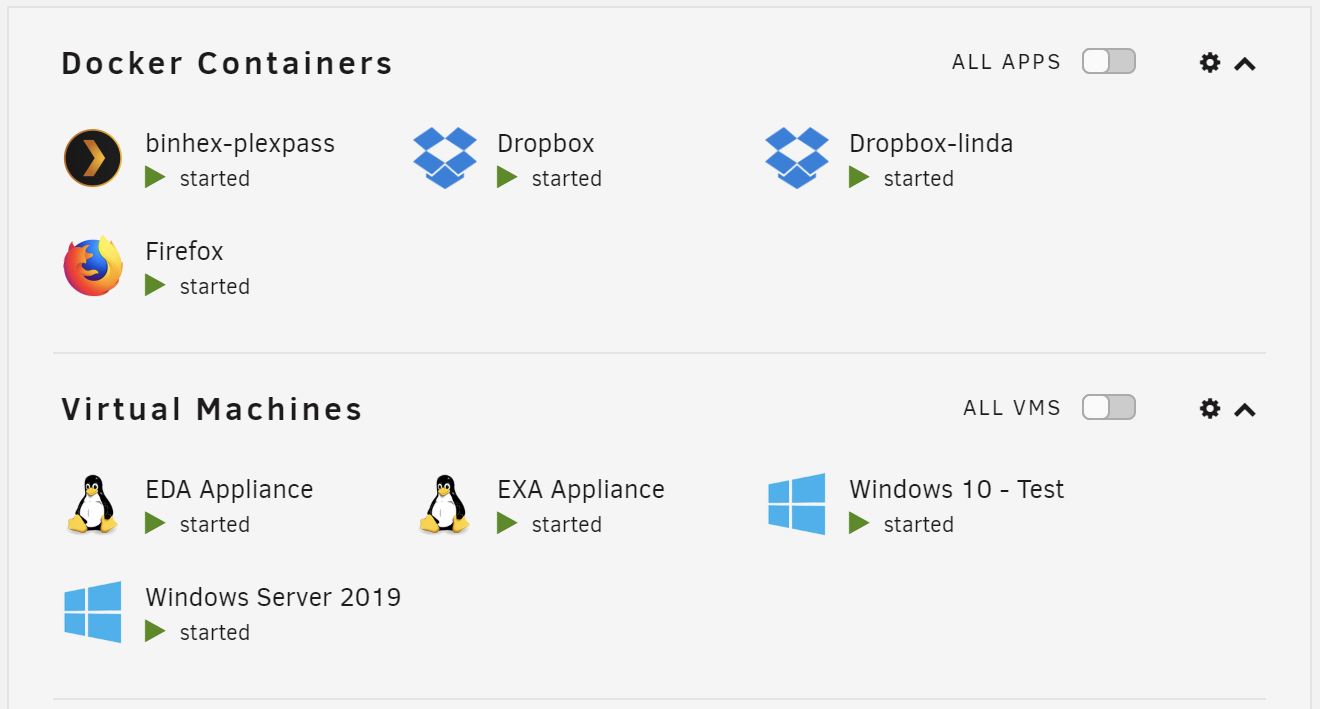 The really cool part here is that you can granularly assign resources to each VM and each container. That is, you can pin CPUs to specific processes, assign RAM, and allow the virtual disk to live on appropriate storage. For example, I like to keep my vDisks on cache.
As far as VMs, Unraid leverages a KVM engine to allow you to deploy a huge variety of virtual machines and virtual appliances.
But this is where we take it a step further.
Running completely parallel to the KVM and container environment within Unraid, we've got another server and another hypervisor. Remember that Dell T630 server? Well, it's hosting a complete Citrix private cloud ecosystem. We've got SQL server, a Domain Controller, a Citrix Controller, and even a Citrix Application Deliver Controller (formerly and still lovingly known as NetScaler). From there, we're dishing out virtual applications, desktops, a secure gateway, and lots more for our lab environment!
And, this entire Citrix virtualization environment leverages the Storinator as the complete backend storage platform.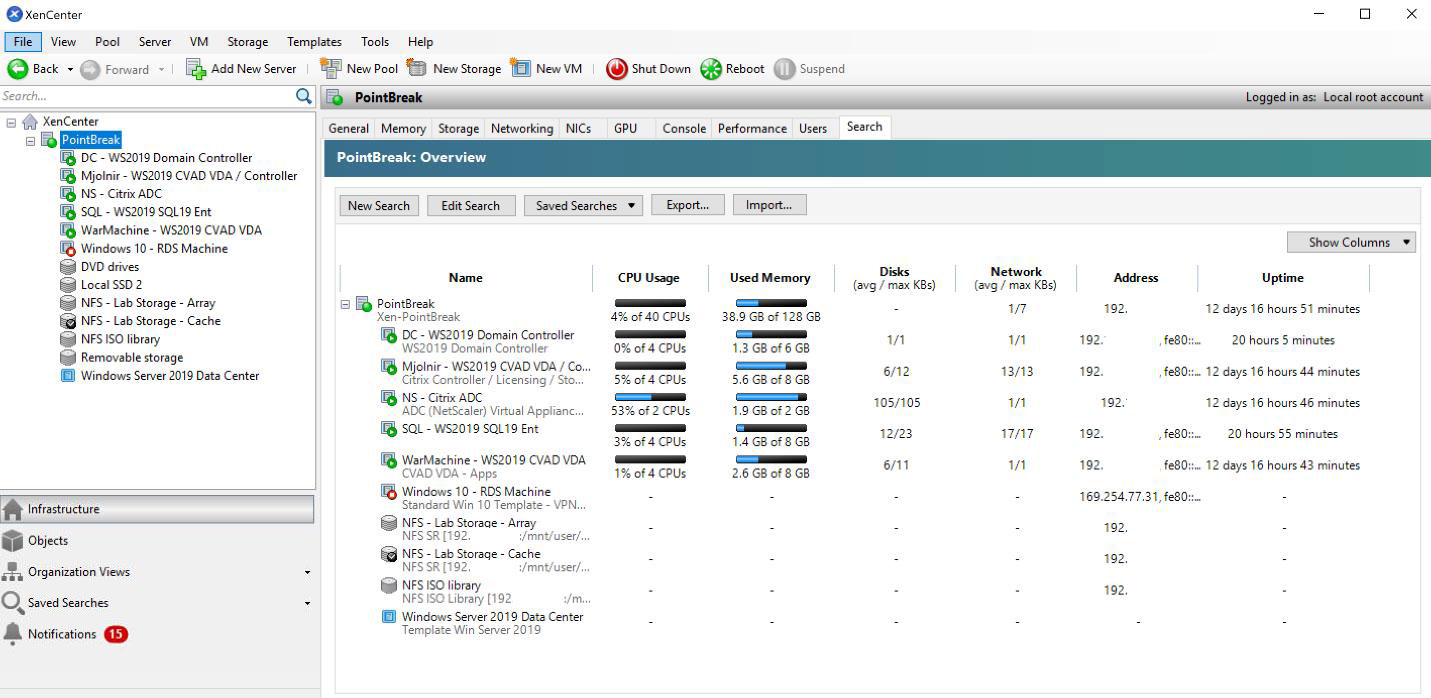 Main dashboard for the Citrix Hypervisor (formerly XenServer)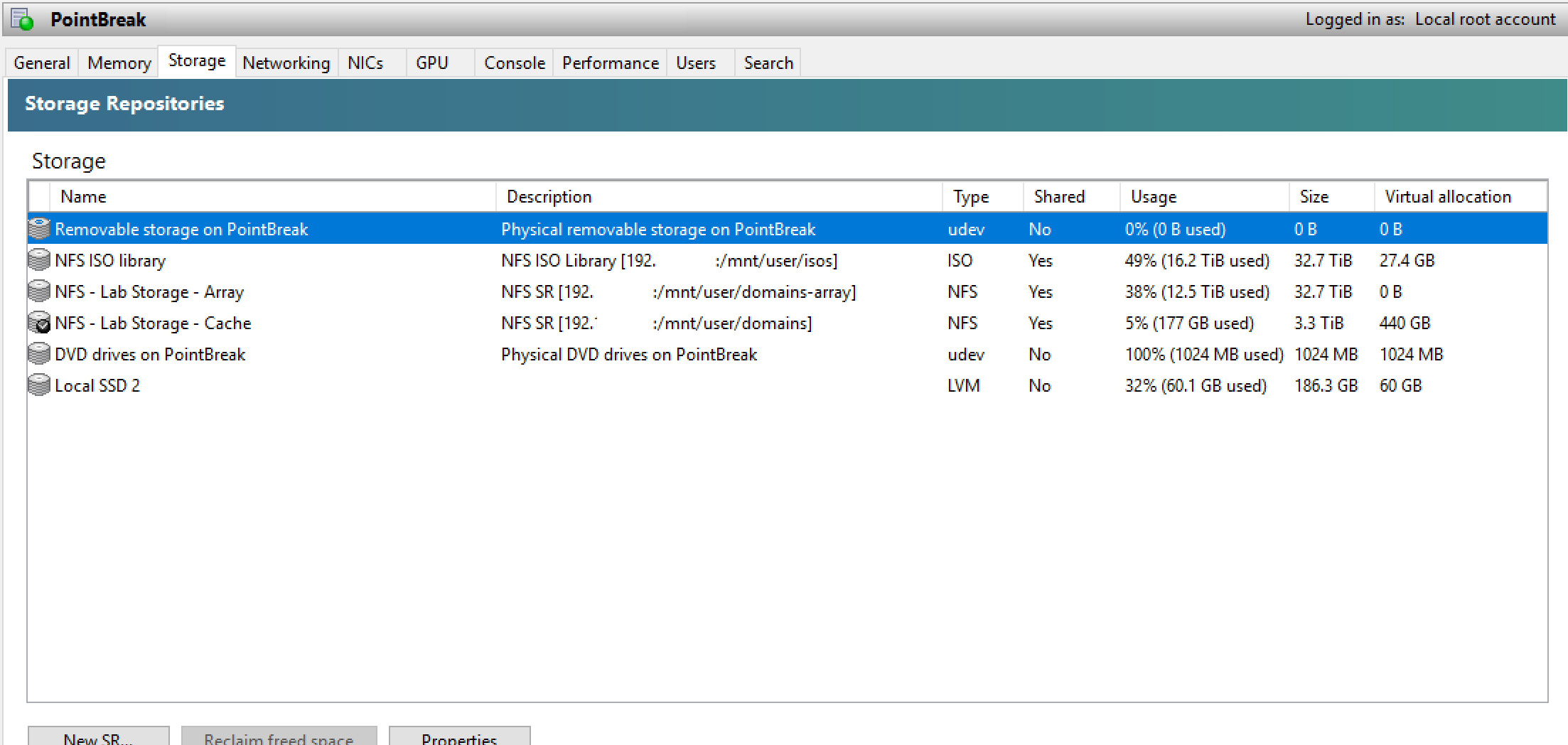 Main dashboard for the Citrix Hypervisor (formerly XenServer)
Here's the portal that serves up all of my lab applications, desktops and resources.

Again, there are several applications as well as desktops that can be accessed. And, the storage backend to all of this is my Storinator Storage Workstation. These specific VMs and their corresponding vDisks are all located on the SSD drives acting as cache.
Here's another important point. I have a few folks who get into this lab and work on different things pretty regularly. This means that at any time, I have a few concurrent users testing out systems, deploying apps, or just working from a desktop. Throughout all of this, the performance has been absolutely stellar. No lag, no hiccups, and since the Storinator also houses my personal files and documents, I haven't seen any performance degradation; at all.
An important point here is that you don't only have to use this for a lab. If you're an SMB, you better believe this type of architecture will keep your business running optimally at amazing price-to-performance-to-density ratios. If you're a gamer or performance user, you should be looking at this design too.
To quickly sum it up...
Two hypervisors
Several VMs and containers running on two physical hosts all accessing the Storinator storage backend
A powerful Unraid OS helping manage and distribute resources
My Storinator absolutely rocking it with performance and stability
But Wait... There's More
I need to point out that the Storinator isn't just here for my lab tinkering needs. Even though, I'm there quite a bit.
The Storinator Storage Workstation is also my media engine. For the eagle-eyed reader, you'll see that I have Plex running as a container. I actually highly recommend that approach. In my media library, I've got several terabytes of content that's all housed on the spinning disk array within the Storinator. Also, I share those libraries with a few friends. And, if you're familiar with Plex, it'll re-encode (on the fly) content that needs to match the bandwidth of whoever is watching it. So, a 4K movie might be reencoded to 720p if there isn't enough remote bandwidth. However, that reencoding absolutely consumes resources on the Storinator. You can actually see the CPU metrics go up quite a bit.
Want to know something? I never noticed. Not even once. This means that while watching movies on Plex, AND while my friends were streaming content remotely, I still had my lab up and running, with all of the corresponding VMs and services. All of this was running at the same time, in parallel with no performance issues. Woah...
There's a Reason Why Unraid and 45 Drives are Besties
At the end of the day, I'm just blown away by the performance and capability of these two systems. I've never been able to do so much with such a small footprint. My previous lab designs always had something lacking. In some cases, it was performance, in other cases I just couldn't get the right kind of drive configuration going. I've had the opportunity to work with Unraid for a long time. And, I've always loved the tech. But, the Unraid platform really came to life for me when I deployed it on 45 Drives.
My longtime close friend Jon Panozzo also happens to be the CSO/CMO of Lime Technology, makers of the amazing unRAID storage software. He's the one who actually introduced me to 45 Drives and the Storinator Storage Workstation, and I've never looked back.
"If you're looking for a super-simple but still super-powerful lab, media, or even SMB setup, you really can't beat the combination of Unraid and 45Drives. The Protocase enclosure makes it incredibly easy to perform standard maintenance and our software really makes it easy to expand on demand. Through numerous deployments in various use-cases, we constantly see our customers rave about this setup. They're constantly amazed at how such a small architecture can produce so much power. Placing Unraid on top makes it even more awesome. Honestly, 45 Drives and Unraid are a match made in heaven!" - Jon Panozzo, CSO/CMO of Lime Technology
Some Final Thoughts
During the day, I work at Switch as their EVP of Digital Solutions. I can honestly say that I've now walked the halls of probably the best designed data center in the world. It's just so amazing to work with technology that helps build and support the digital world.
The point is that this keeps me pretty busy. But even as an executive, I've never stopped being a technologist. Like so many of the people reading this, you love to tinker, and occasionally break things. Working with both Unraid and 45 Drives make that tinkering a lot more fun, and their architecture makes it a lot harder to break. For my own lab, I'm really excited about some future projects involving home automation, integrating with IoT, working with some new container services, and expanding my private cloud. All of this running on both Unraid and my Storinator.
The best way to really understand how these solutions work is to try them out. Unraid is easy enough, they're software. But to really feel the impact of their technology, you'd need the arc-reactor (and yes, the chassis does glow) of home and SMB storage solutions, the Storinator.