I've had the pleasure of working in the IT space for about 15 years. And ever since I was a young engineer, just starting out, I've always built out labs to try and test out new technologies and learn about new solutions.
Through the years, I've been a CTO at one of the largest virtualization partners in the nation, and now I'm the EVP of Digital Solutions over at Switch, a leader in world-class data center and technology systems. Through all of this time, I've never stopped learning about new technologies, testing out innovative virtual appliances and cloud designs, and playing around with new media engines. However, to do all of this - I needed something pretty basic but important: hardware and resources. And if you want to do the fun kind of stuff that I'm playing with, you'll need lots of dense and highly efficient resources.
In the past, I've built out my own systems leveraging three physical machines (i7 with about 64GB of RAM each) that were all attached to a Netgear ReadyNAS Ultra 4. The Netgear housed 4 spinning drives (4TB each) in their own proprietary RAID array. Did it work? Absolutely. Did it work well? Initially...
My biggest challenge was when I started adding new complex workloads. Virtual machines doing application or desktop virtualization would really start to slow things down. Plus, I had Citrix NetScaler load balancers, Ivanti profile and system managers, and even AV and security VMs running parallel functions. If I wanted to stream or encode content at the same time, the system would often slow to crawling speed.
To be honest, this was one of the biggest stopping points for me when creating a lab ecosystem that could handle both media alongside a robust virtualization lab environment. I wanted the same, dense, storage backend that could handle all of these requirements. However, my options limited. Either spend quite a bit of money on an enterprise-grade or higher-end storage array coupled with a resource-rich host. Or, try to make it work with a self-designed architecture that would be hit or miss. Plus, cost was definitely a factor here. I didn't want to spend crazy amounts of money on a lab and media platform. So, I was stuck.
The Storinator Storage Workstation: Rise of the Most Dense and Efficient Media and Lab Platform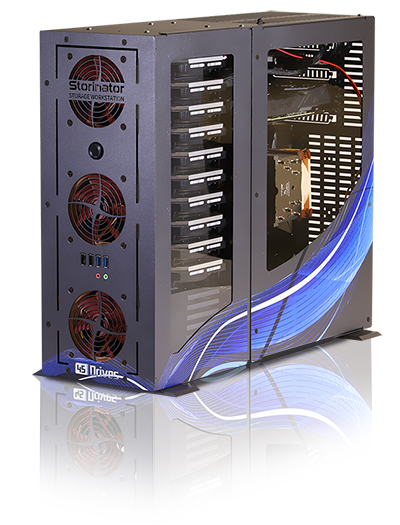 One of my really close friends Jon Panozzo also happens to be the CSO/CMO of Lime Technology, makers of the amazing unRAID storage software. If you haven't heard or checked out unRAID, I really can't recommend them enough. This powerful storage software allows you to partition system resources to store and protect data, run any application, and/or create virtual machines in isolated environments. All with bare-metal capabilities.
However, even though unRAID is an absolute powerhouse, it will only perform as well as the underlying hardware. And, once again, I was stuck using a bit of a legacy system that would absolutely slow when overtaxed. That's when Jon told me to look at 45Drives and the Storinator Storage Workstation. And since I've deployed it, I haven't looked back once. You can check out some really cool system performance tests right on the 45Drives website; but I decided to take this thing on a 'performance race course' for a test drive!
To give you a quick lab architecture, I've got a Cisco Meraki MX appliance for my firewall and a Meraki MS switch for as my networking device. From there, I've got a Dell PowerEdge T630 with lots of RAM and CPU for processing virtual machines and appliances. On that same machine there are two small SSD drives for a bit of local storage. Sitting right next to it in my half-rack is my 45Drives Storinator Storage Workstation. There, we have an array of 8 spinning disk devices providing 28TB of general space and 9 cache pool (SSD) devices providing 3.6TB of cache storage for my vDisks and VM storage. Over the past few days, I've been putting immense load on both of these systems and seeing the results.
What have I noticed? For the price that you pay in getting a Storinator Storage Workstation, the multi-use-case performance is insane.
Take a look at this image (Click to Enlarge) and let's dive into what's happening behind the scenes:
There's a lot going on in this screenshot, so let's dive into some of the things this engine is helping run.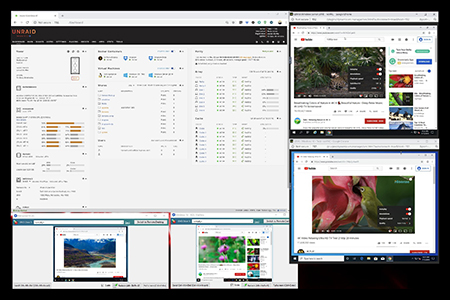 Four simultaneous streams from Plex to four different devices. Remember when I mentioned having a powerful media platform? While running this test, I had a 4K version of Avatar playing on 3 different devices. The fourth device was an iPad where I was streaming a 4K James Bond movie that I was actively re-encoding down to 720p. All of these films and the rest of my media content is stored on the spinning disk array on the Storinator. None of the devices or streams had any lag and each of them were able to stream the content perfectly.
The Storinator Storage Workstation is both a storage appliance and bare-metal virtualization host. As I mentioned earlier, I have two physical hosts in my lab. One is the Dell server and the other is the Storinator Storage Workstation. I built my lab using the Citrix Hypervisor (formerly known as XenServer). Within my lab, I wanted to deploy a really cool ExtraHop networking and security virtual appliance. But, the one hypervisor that it wasn't compatible with is the Citrix Hypervisor. Instead of completely rebuilding my lab with VMware or Hyper-V, I deployed unRAID to act as both my storage appliance, media server, and lab host. unRAID was deployed bare-metal right on top of my Storinator Storage Workstation. From there, I used the built-in KVM virtualization engine to deploy my ExtraHop Linux appliance. Now, I have two hosts where I can test out multiple VMs and multiple virtualization hypervisors! That said, this whole thing actually gets even cooler.
Performance, density, and resiliency. The Storinator host can handle up to 132TB of available raw storage and up to 61TB of available raw high speed, SSD, storage. I don't have that much in mine, but what I do have performs wonderfully. Remember, my other host is that Dell T630. There, I have a few VMs running my private cloud and virtualization lab. All of those VMs are attached via NFS to both my cache and general storage array. This means that all of my active VMs are continuously running and accessing the Storinator resources. Plus, with the unRAID configuration, I can lose up to two disks before my data becomes impacted!
Now, let's go back to that screenshot. If you take a look, I'm running four different VMs (Windows 10 Pro and Server 2019 Datacenter) on two different hypervisors (KVM and Citrix Hypervisor) that are all streaming content. To test, I'm streaming 2160p, 4K content. You'll see how a few of the CPU cores are a bit more used than others. In unRAID, you can specifically pin vCPUs to your virtual workloads. That said, none of the resources were ever overtaxed and the entire experience was always smooth. Each of these VMs had their respective para-virtualization drivers installed so all graphics were performing well. And, in the background, there are other VMs running virtual apps and even hosted desktops. Oh, there are a bunch of Docker containers running too.
Let's recap briefly. The Storinator Storage Workstation now acts as my backend storage appliance, virtualization host, media repository, and resource hub. It does all of this at an amazing price to density and performance ratio. The really cool part is that I can continue to build and expand the appliance. Coupled with solutions like unRAID, the Storinator becomes an absolute powerhouse for media and lab requirements. Without spending way more money, I never thought I'd be able to have both a lab and media experience like this. I honestly couldn't recommend it enough.
The unique 45Drives design keeps the Storinator nice and cool with three fans blowing air right at the drives. From there, you can actually add disks without turning the system off! You may have to restart the array, but the entire physical appliance can stay up and running. Not only has this become my go-to solution for media content, it's also the home to some really cool private cloud solutions. And, if you like to tinker, it's this kind of solution that gives you the most freedom. Remember, you don't have to load unRAID as your bare-metal platform. The Storinator will work quite happily and efficiently with a Windows OS sitting right on top, or any other operating system you want to work with. Remember, the Storinator is very much OS agnostic and can work with pretty much any operating system.
Bottom line, if you've been frustrated with media resources, or just trying to build out your own lab, you absolutely need to look at the 45Drives Storinator Storage Workstation. It'll completely change the way you manage your media and lab platform. Not to mention, the amount of fun you'll have deploying and working with this solution.