Most storage servers use a single type of primary storage media, like HDDs or SSDs. All-HDD servers excel at inexpensively storing large amounts of data, and serve it back over your network at very high speeds, although small-file random access workloads will challenge them. All-SSD servers excel at small file random access workloads, but at present, are much more expensive and tend not to be used on large data sets. That's why hybrid storage servers are so exciting.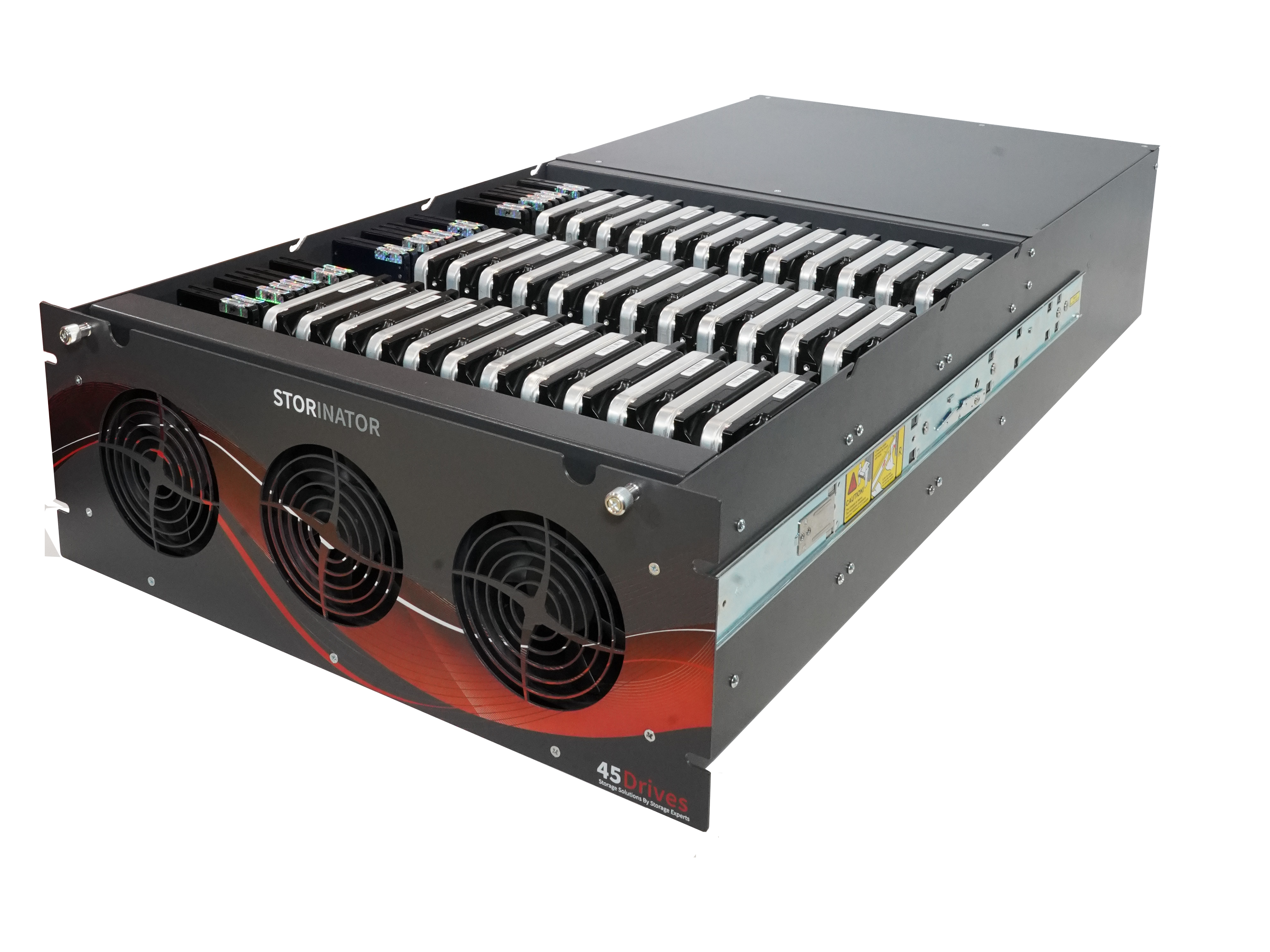 Hybrid Storage servers use both HDDs and SSDs. This can allow you to leverage the cost-effective bulk storage and throughput of HDDs with the low latency of SSDs. For the right application, this can provide serious performance benefits.
Of course, 45Drives has been making big, strong, fast hybrid storage servers for a number of years now, which have proven to be real high-performance workhorses as both single servers, and as nodes in storage clusters. Today, we're excited to announce the Storinator Hybrid generation 2.0. Let's take a look at the improvements we've made.
Standardized Drive ratio
The drive ratio for each size has been standardized with the Storinator Hybrid 2.0,. You can see this in the model names of the servers.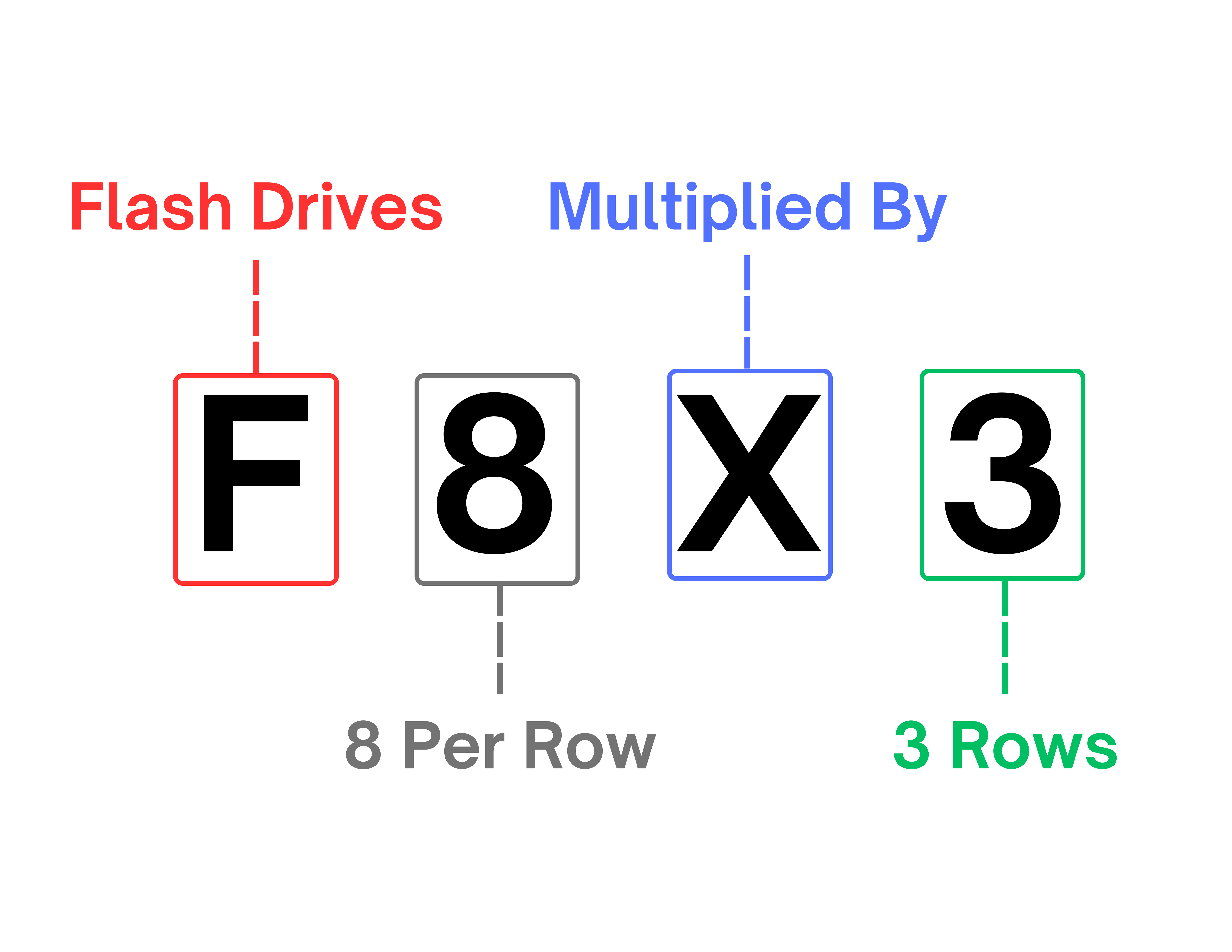 This drive ratio is optimized for common ZFS and Ceph applications. Compared to the 1.0, this standardization will make sizing servers/nodes much simpler. (We will be doing a blog in the near future on server performance that includes hybrids. You can sign up here to our newsletter to be reminded when this comes out.)
Row-Aligned HBA's
Each row of the Hybrid 2.0 storage server is now independent from each other, meaning there is one dedicated storage controller (HBA) for each row. This gives the benefit of:
Simplified drive to slot mapping, so it is easy for an operator to track down a specific drive.
Improved serviceability to the underlying hardware.
Support for hardware RAID storage controllers if the end application requires it (Windows for example).
Single Row Hybrid Storage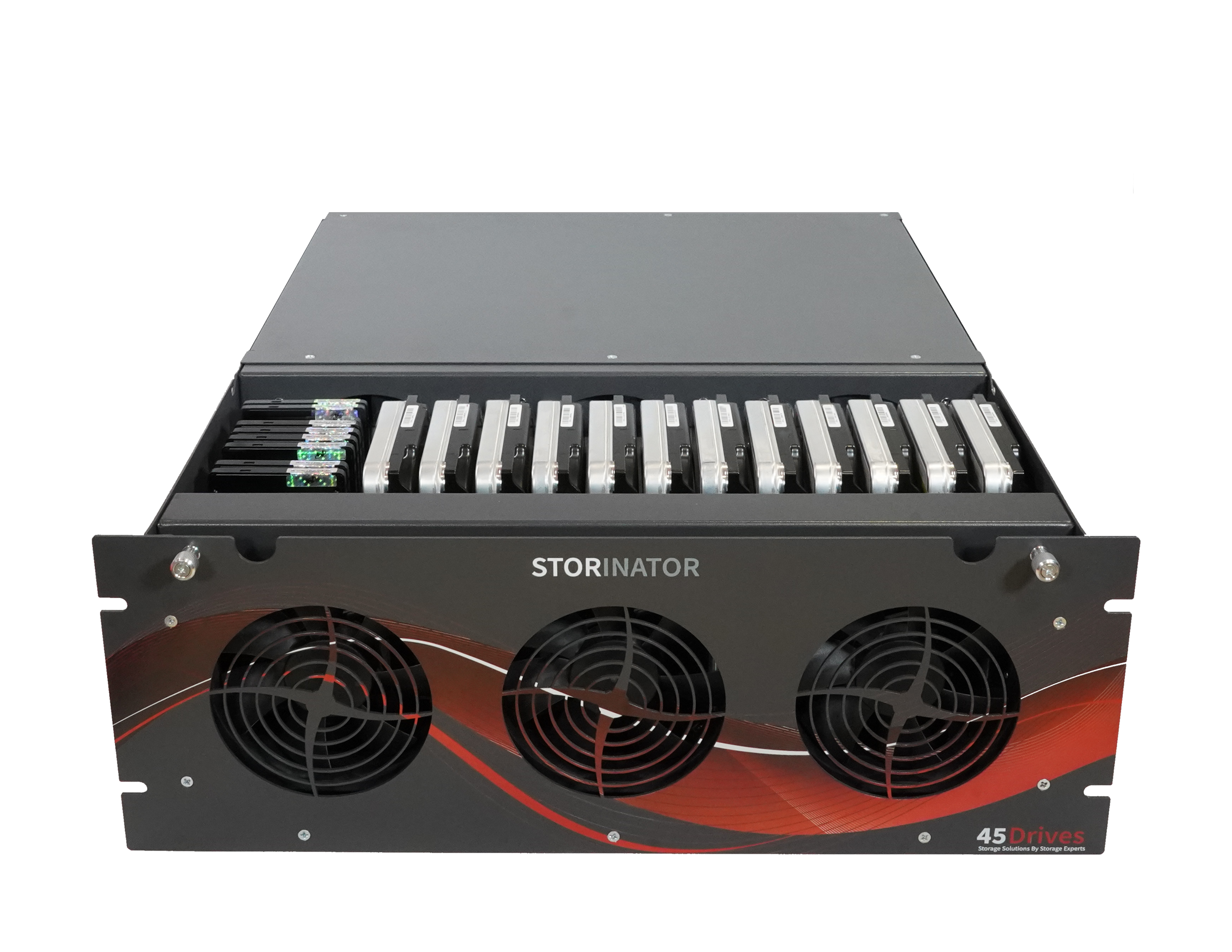 The design of the Storinator Hybrid 1.0 did not allow for single row servers. This has been rectified in generation 2.0 with the F8X1, offering 12 HDDs plus 8 SSDs. This is an excellent node sizing for creating low cost, very high performance Ceph clusters using journaling (dedicated rocksdb).
Cable management and serviceability
One of the first things you'll notice when looking at the new hybrid design is the numerous cable management improvements made throughout the device.
Instead of using sticky mats for cable ties, we now use screwed in brackets. These make it super easy to access necessary cables when you need to make replacements or upgrades.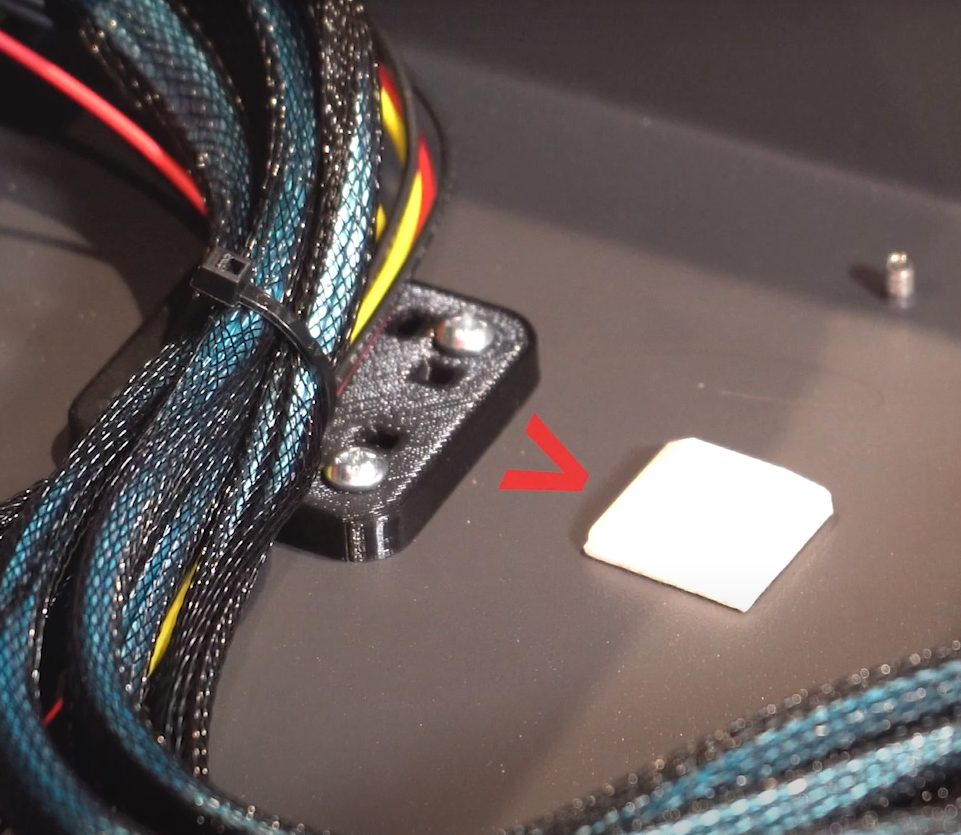 The Hybrid 2.0 has increased the space in the motherboard chamber to give you a much easier time servicing your unit. We used this extra space for this cable management mount that holds the power cables for the drives upright.
Fan bracket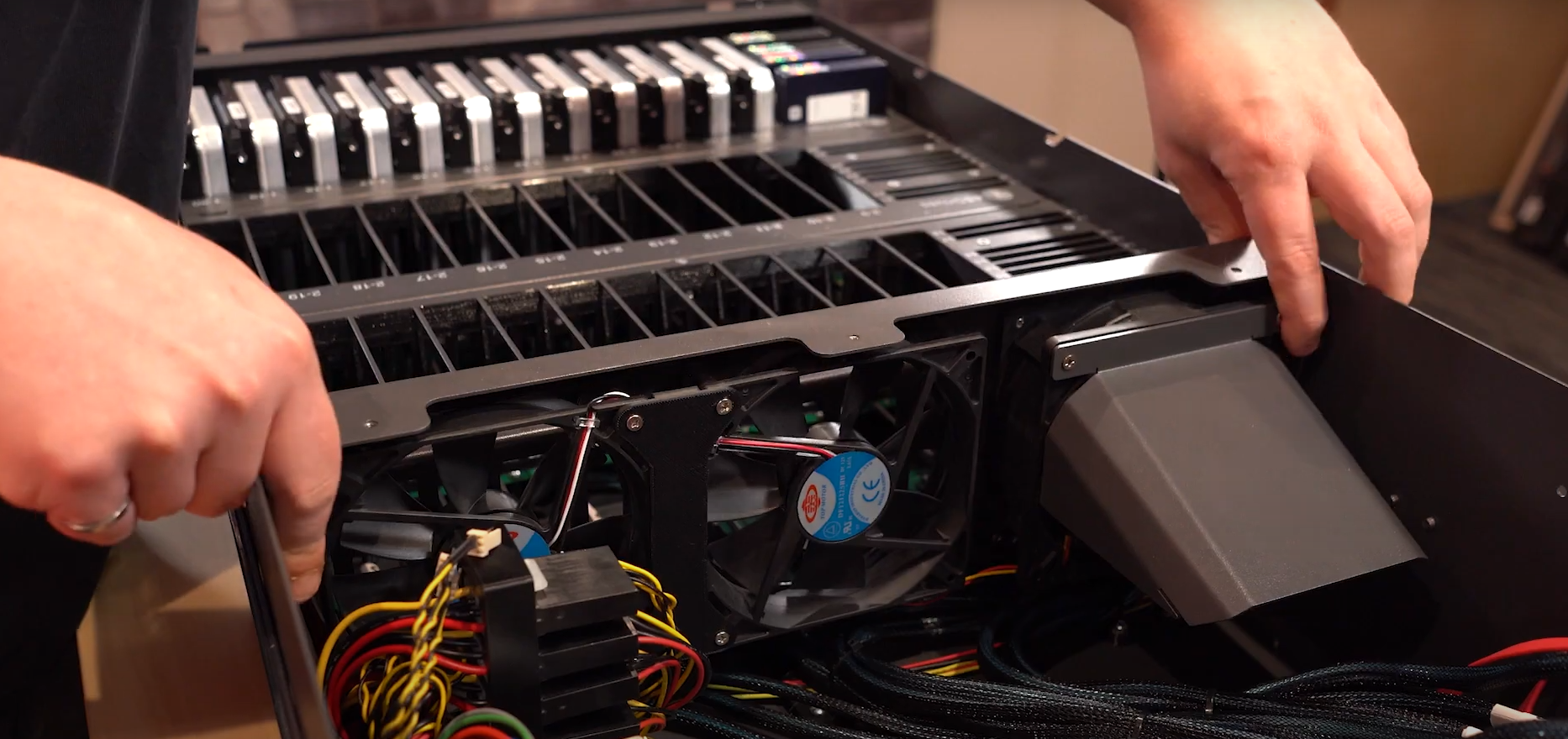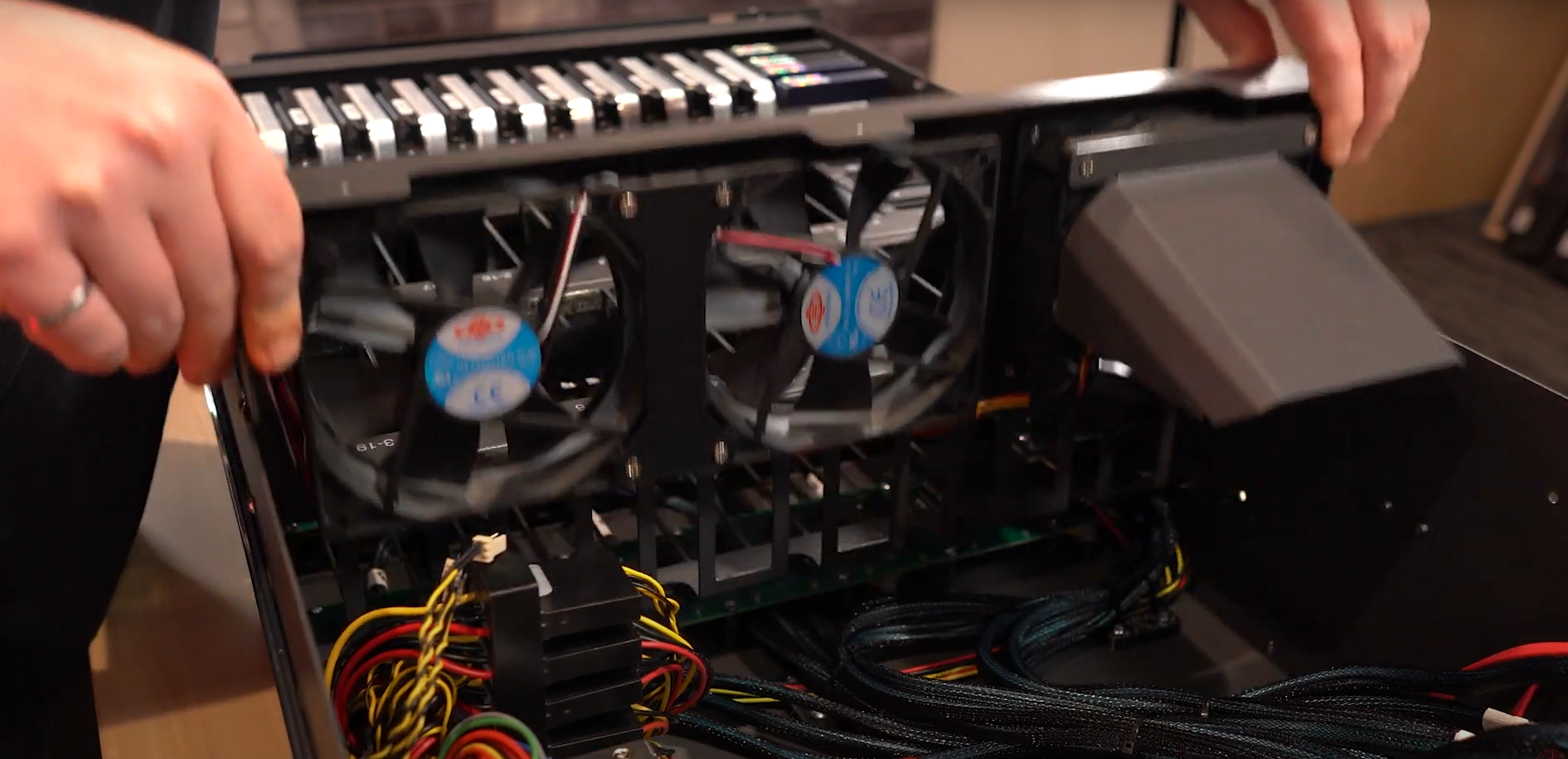 The middle fan bracket has been redesigned with serviceability in mind. It is now easy to disconnect the fan cables and remove the entire section without needing to dig around too much.
Improved boot drive access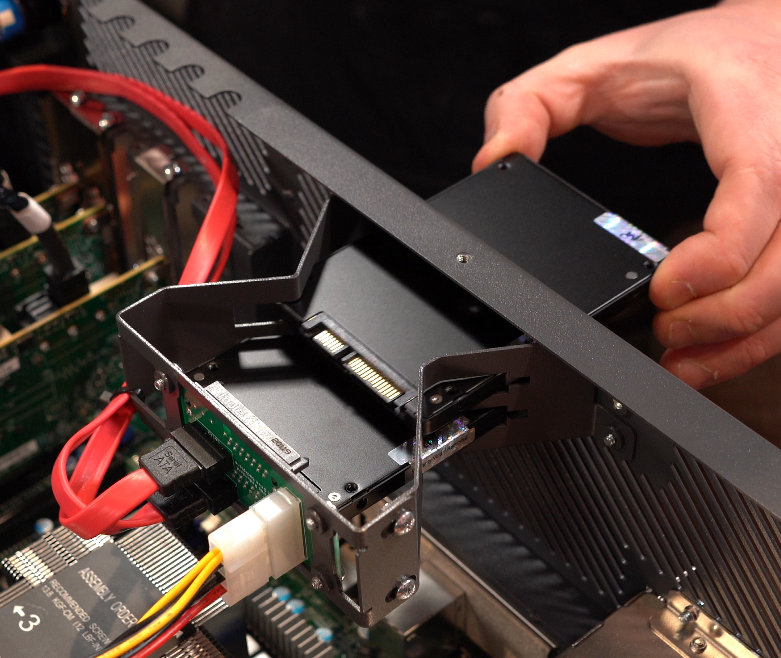 Another change to the motherboard chamber was adding a toolless bracket to access the boot drive. It is now just as easy to access your boot drives as it is to access any of the other drives in your unit.
Airflow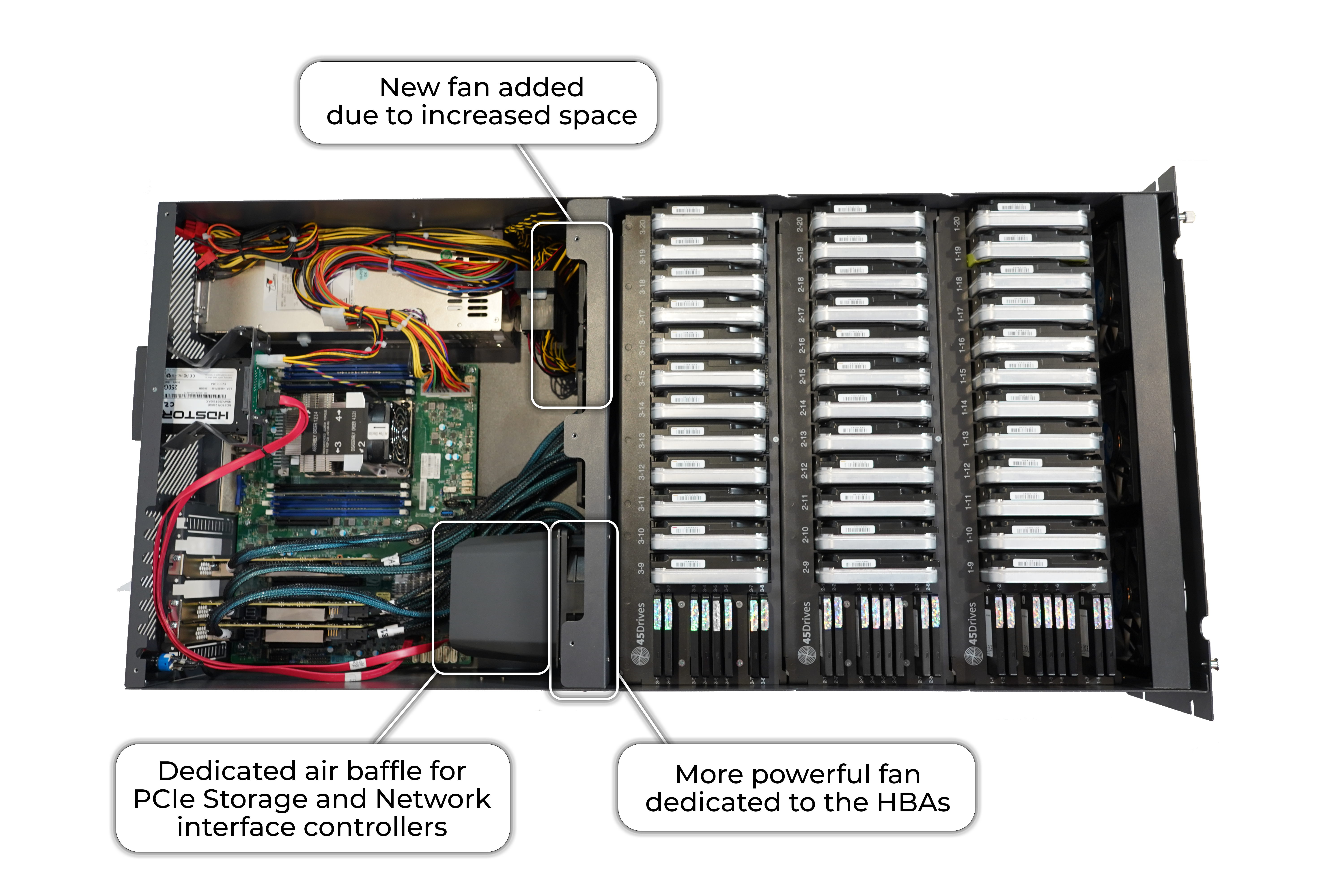 The Storinator Hybrid 2.0 has implemented changes to improve airflow:
In the Drive chamber, the new SSD mounting system and consistent orientation of the drives allow more air to move through and around the SSDs.
In the motherboard chamber,

a dedicated air baffle (for the F8X2 or F8X3) and fan to funnel airflow directly over the PCIe storage and network interface controllers.

Increased area behind the power supply allows for higher number of fans to allow uniform CFM through the chamber.
Conclusion:
If you're interested achieving the ultimate combination of performance and economy by owning a hybrid server, please let us know. Email or phone, or get an instant price quote online. Stay tuned in the near future for more information on different types of server performance and when hybrid storage may be best utilized.