When Pastor Matt Brown started Sandals Church in 1997, his vision was to create a place for people, as he puts it, to be real with God, themselves and others. In those early days, he would host modest gatherings with his congregation in each other's apartments, when the pastor would consider sharing Christ's teachings with 75 people a success. Since then, Sandals has steadily grown with the help of its churchgoers and technology; it now accommodates more than 12,000 people a week at its services across 11 locations and online.
Sandals Church uses technology so they can better connect with their followers to help them more freely connect with God. Their technology director, Zachary Applegate, manages technology across all their locations.
"We integrate technology pretty heavily. We develop our own mobile apps internally. We have a full time developer and a full-time web designer. Every time we launch a new campus or new location, our team is in charge of deploying infrastructure and various technologies to help get that location up and running. The way we use technology is everything from custom development to core IT infrastructure."
The Problem
Sandals records and broadcasts all their services, they also have two full-time videographers and several video volunteers for the videos they make. The large amount of data storage uses caused issues to their team's workflow, as Zachary explains.
"We employ a couple of videographers and graphic designers on our creative team. They had previously been using a localized storage system over thunderbolt. It was super fast for an individual video editor, but as soon as they wanted to share projects or footage it became really unwieldy. For a while, they were sharing that system over a Thunderbolt Bridge, which was okay but no one else could get access to it. So, last year, we started looking at some network-based systems that supported 10 GB connections. With the goal of moving their segment of the network to full 10 GB and connecting them and some broader creative folk on their team to that system to store heavier media."
Sandals Church also has a small team of graphic designers who were sharing their own similar setup separate from the video team. This made it difficult to share projects between departments. They wanted to get a network-attached-storage (NAS) device that was powerful enough for multiple editors to access and edit all their files. They were trying to centralize their storage between departments and simplify their workflow when sharing projects with others in the creative team. Zachary's team were fans of Linus Tech Tips' YouTube channel, which is how they were introduced to 45Drives . After comparing different competitor systems, they decided to purchase a Storinator Q30.
Using the Storinator
Sandals use their Storinator actively for video editors in a mixed environment of both Mac and Windows PCs. They also have their graphic designers using it for cold storage. The Storinator has given them the ability to focus on their work, instead of dealing with the hassle of passing around one project to have it completed by multiple people. They now have one centralized location for all their work.
The Storinator has improved their workflow tremendously. Previously, their graphic design team had their own local storage drive they were sharing off a computer and so did the video people.
"Now there's just one centralized place where they know that stuff is stored. They can be organized, and look through it to find the things that they need."
Sandals uses 10 GB switches for their editors to ensure the connection is fast enough to handle the 4k Raw footage from their Canon C200s. Their Storinator is also connected to their network with 1GB Ethernet to enable access for the cold storage folks who don't have the same speed requirement. The Storinator so far has been more than fast enough to edit and transfer their 4k footage.
"The Storinator has changed the way our team stores, processes and works with video. Before the Storinator, our team was trading video on external hard drives, footage and projects where spread out on multiple drives and it was hard to share those assets with others. Moving to the Storinator has drastically improved our team's efficiency by creating a central place where video is stored, worked on and shared with others. "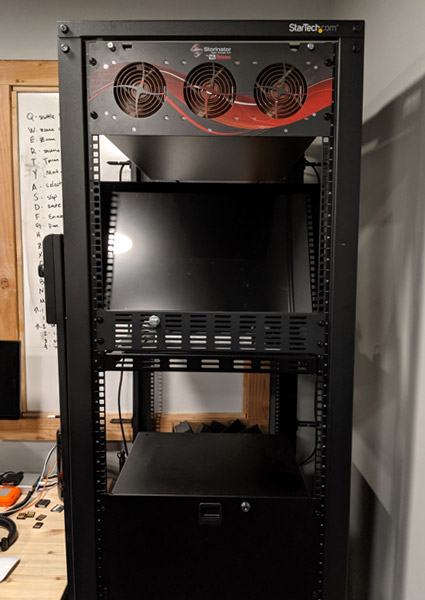 They put in 20 drives in so far for a total of 90TB of raw capacity. This gives them the option to scale up by adding the final 10 drives later. They can take their time to scale into the extra size when it is required.
Their Storinator is running the open source software FreeNAS. Instead of getting it preconfigured, Zachary decided his team should set it up themselves to get a greater handle on FreeNAS.
"The documentation that came with it was great. I was impressed by that. I hadn't used FreeNAS much at the enterprise level," said Zachary. "It was helpful because it gave a few scenarios to choose from and how to go about setting the server up. After talking through the best way to set our unit up with their support, particularly only starting with 20 drives, and scaling later, it was great."
"It did take us a little bit of time to figure out how to set it up right with the help of 45Drives. We had to trade out some of the 10GB adapters we were using.* Once we figured that out, it's super-fast. Our video guys have had no complaints working off of it."
*Sandals had their 10 GB adapters function normally on the Macs, but were not getting the same speed they wanted on their PCs. Since they switched them out they have not faced any more issues.
Looking to the future
Sandals Church's video editors are now able to share their projects without the hassle they were facing before. They also have the ability to add another 30 TB of capacity when they require and won't need to think about upgrading for a while.
"It's been a really great investment for us. We are going to continue using it for years. I would highly recommend it, the support has been great."