With over 1,700 students enrolled in 30 programs spanning business, design, nursing and information technology - Pittsburgh Technical College(PTC) needed a storage solution that would keep faculty and student data safe. They needed a plan to backup their school's network to ensure their data wouldn't be lost, and that's where 45Drives came in.
Pittsburgh Technical College
Like many schools, PTC has a centralized network for their students and faculty to access. If college students or faculty have any network issues, they will go running to their IT department or PTC's Chief Information Officer William Showers.
To protect student's and faculty data from being lost - it's important for PTC to keep backups of all data. Every night, the school's data gets backed up offsite to a secondary server to ensure availability in case of disaster.
PTC's old backup server was chosen for deduplication (the elimination of duplicate or redundant data) and their setup was built with data efficiency in mind. Previously, the college used another enterprise storage system from a leader in the industry - but it just didn't have the performance they wanted. Five years ago, PTC decided to make a change. With the ability to start fresh, the team decided raw speed and large storage was most important when choosing a new storage solution.
45Drives & The Setup
PTC heard of 45Drives through an article about Backblaze storage pods. After some back and forth to decide which configuration was best for their use case - William's team purchased the Storinator fully configured.
"It is half the price and 1000 times faster!"
PTC's Storinator is running CentOS and performs nightly backups from the school's VMware infrastructure using Veeam. Inside the Storinator, they have forty-five 4TB drives which equals 180TB of raw storage with 150TB useable. So far, they are using 120Tb of that space.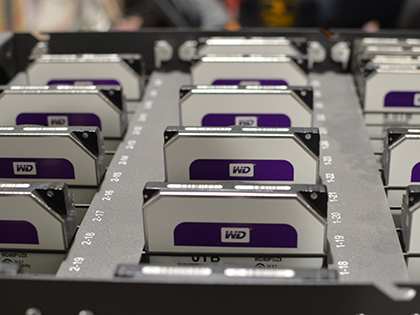 "Before the S45 Storinator, we were backing up with a combination of tape and a deduplicated disk-to-disk system. We constantly dealt with bad tapes, tape drive issues, tape drive maintenance, and failed backup messages."
According to William, the disk-to-disk system always performed well on backups but very poorly on restores. "Backing up with Veeam and the 45Drives solution has solved all these issues and restores are done with ease and speed. It gives our team a piece of mind that the data is protected and is there when we need it. 45Drives has delivered a great product and an excellent price point."
Their previous setup was on the same rack as their main server, while the Storinator is located 20 miles away. Despite this, a transfer that used to take over five hours is now done in less than 60 minutes. That means less time worrying about whether or not students' and faculty data is protected. William says the new setup more than exceeds the team's expectations.
"We would absolutely recommend it! You can't beat the value."
Looking to the future
In fact, the Storinator solution has been so effective, PTC is now considering purchasing another Storinator. This one will store data from the campuses' 200 security cameras constantly recording surveillance footage.
Pittsburgh Technical College has had its Storinator for five years now - with no technical issue or failure yet. PTC's IT team sought a high-value backup machine with ultra-fast performance, and they found it in the Storinator.
We've not had so much as a drive failure." William said, "We haven't even had to look up the support number."