Our Commitment is to Have You Up and Running - at the Performance that We Promised You!
Hardware Support and Warranty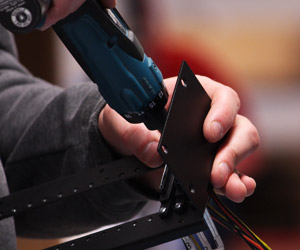 First and foremost, we stand by our hardware.
45 Drives storage solutions are assembled with high-quality components, with the option to be customized and upgraded. Our 45 Drives engineers are always looking for industry standard hardware suppliers to optimize our servers' compatibility, performance and stability.
We warrant that our systems (excluding custom systems) will be free from faulty parts and workmanship for a one year period from the day the unit is shipped. Hardware support is provided at no charge to the Customer. At the end of the warranty period, hardware problem diagnosis remains free, but charges will apply for replacement components.
Storinator:
✓ 1 Year FREE from the date you received your machine is included with every purchase

*

3 Year extended warranty for $699 per system
Hard Drives:
Hard Disk Drives are covered under a separate warranty from the manufacturer.
✓ WD Purple Drives 3 year replacement warranty
✓ WD Gold Drives 5 year replacement warranty
Note:
If you have purchased hard drives from us, we will take care of the RMA process. Notify us of a bad disk and we will have one sent to you right away. We will also assist you in returning your defective drive to your supplier.
Technical Support Service Details
We are committed to getting you up and running and we do this by offering 2 FREE hours of support once your Storinator has arrived at its new home. But we're here for you every step of the way, from customizing your company's ideal storage solution, to its configuration, to any required future support, 45 Drives is committed to you.
45 Drives provide hourly support and have a flexible pay-as-you-go offering. To help your company get on its way we are here to answer any questions or assistance you may need. The 45 Drives Support Team will require you to purchase support, but it's as simple as clicking below and we will get back to you within 12 business hours. And hey, we're reasonable. We will offer you as much assistance as we can within 15 minutes without charge, helping to suggest possible quick fixes and easy solutions.
Purchase support from us for direct access to 45 Drives engineers with a targeted response time of 12 business hours. Our support is the best complement to your IT resources, and adds value by putting you in touch with a 45 Drives Storage Specialist. From help with customization of architecture, configuration, hands on tech support, to answering questions and anything in between, we are here to help!
Single Storinator

(Non-clustered)

Installation / Commissioning More ↓

✓ 2 FREE hours of support per purchase

Pre-configuration More ↓

→ $1000 (single server)


Continuous Support

→ Hourly: $150 / hr
→ Prepaid: 5 Hours $600
→ Prepaid: 10 Hours $1000

Application Support

→ Backblaze Hybrid Cloud Solution Setup: $300

Installation / Commissioning More ↓

✓ 2 FREE hours of consultation

Configuration More ↓

→ $1000 (1st sever setup)
→ $500 (per additional server node)

Continuous Support

→ Hourly: $150 / hr
→ Prepaid: 5 Hours $600
→ Prepaid: 10 Hours $1000

Application Support

→ Backblaze Hybrid Cloud Solution Setup: $300
2 Free Hours of Support
This key service exemplifies the philosophy of 45Drives. With this free feature, our goal is to ensure you are up and running quickly, with the speed and performance we promised.
You can utilize this time by having a detailed configuration call with a 45Drives engineer, outline your needs and recieve expert advice and education required to achieve your goals. If you would prefer to keep your 2 Free Hours of support for the future and not for your initial setup, simply choose to have your Storinator Pre-configured, and bank it.
Storinator Pre-Configuration
45Drives will pre-configure your Storinator(s) so your server will be fully functional and ready to handle your storage needs when it arrives at your facitity.
Don't worry! If you choose NOT to have 45Drives pre-configure your server, you will still receive a fully assembled and tested Storinator pre-loaded with your chosen OS.
So, what does pre-configuration Include?
First and foremost, by having a 45drives engineer fully-configure your Storinator so you are completely up and running upon arrival, you can bank your 2 Free Hours of Support for any future needs.
In addition to that, we will:
Setup your preferred RAID array and filesystem on the OS of your choice
Network configuration (Network information required)
Setup Users and Groups (User information required)
Share configuration (NFS, AFP, SMB)
CTDB with Gluster FS
Gluster FS install and configuration (CentOS)
Gluster FS Brick creation or dataset creation
* Please note, occasionally some post-configuration and setup may be required once it arrives. This is included in your pre-configuration package. How much post-configuration that will be required will be determined.
Need Help?
"Give us a call" there is no cost to speak to us and we will point you where you need to go!
Support offered by
Phone, Email, Remote Sessions and Online Resources
Available Time
9AM to 5PM AST