Support and discussion forum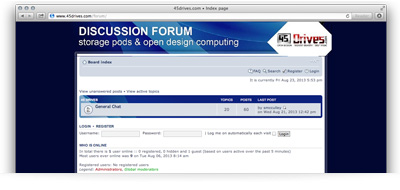 We set up this forum to provide a support and discussion channel for the backblaze-inspired storage pod community, as well as those interested in open-design computing. This is a place where community members can ask questions, share experiences, report bugs, and check enhancements. 45 Drives staff will monitor and participate in the forum. We ask that you use it respectfully.
Visit the 45Drives Forum
Technical Wiki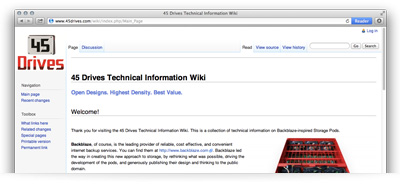 45 Drives is dedicated to supporting the community that is growing around Backblaze-inspired storage pods and open-design computing. Thus, we host this wiki page. It is a rich source of detailed information, some of it from 45 Drives, but much of it from the experience of community members.
Browse the 45Drives wiki
Frequently Asked Questions
How do I order?
Get a quotation for stock configurations directly from the product configurator, or contact us for pricing and information on custom configurations. When you are ready to order, simply email us at info@45drives.com, or call us at 1 (866) 849-3911. One of our super-friendly sales staff will help you.
What is Protocase's relationship with Backblaze?
Protocase worked for Backblaze in the development of the Backblaze Storage Pod, going through many, many iterations before arriving at an optimized solution. Protocase and Backblaze continue to cooperate on further innovation. The companies have no other formal affiliation, other than Protocase, its founders, and certain employees are happy customers of Backblaze's backup service.
What if I have questions?
You can call us at 1-866-849-3911 or e-mail us at info@45drives.com . We would be happy to answer your questions.
Do you ship outside North America and the UK?
Absolutely, the open-source storage community is very international, and we regularly ship to Continental Europe, Russia, Africa, Asia, and Australia/New Zealand. Shipment is usually by international courier.
A fully assembled unit (including redundant units) measures 36" x 24" x 12" and weighs 70 lbs. An enclosure only unit measures 30" x 24" x 12" and weighs 46 lbs. To receive a shipping estimate please email info@45drives.com
Why do you sell the pods without hard drives?
Storage drives are the largest single cost in a 45 Drives storage pod. There are numerous vendors who sell hard drives at very competitive prices, so it is most likely that you will get the best deal by purchasing directly from high-volume vendors. We do recommend that you read our wiki before choosing hard drives - almost all hard drives on the market are compatible, but as of the time of writing of this FAQ, we do know of 2 drives that consume excessive current on start-up (which may cause problems). Finally, please note that we do get customers from time to time, who require the hard drives and pods to be sold as one unit (generally due to internal purchasing policies or restrictions). If this applies to you, please e-mail us at info@45drives.com and we would be happy to supply you with a pod with hard drives to make your acquisition as simple as possible.
Which Hard Drives Should I Buy?
How loud are the storage pods?
In a 40-50 decibel room, when measured at 3 feet, the storage pods reach approximately 60 decibels. It is important to note that on average, a normal conversation at 3 feet is measured at 60-65 decibels. Check out our acoustic measurement videos for the Standard and Redundant pods.
Will you customize an enclosure for me?
Absolutely, we build them from scratch for you, so we can do any customization that you wish. However, extra charges may apply, depending on the extent of customization. You can choose from the minor customizations below, but if you require further customization we would be happy to do so (we can build basically anything that you can design!)
Custom color - Click here for custom color chart. There will be a flat setup charge of $50 per order for stock custom colors. We can accommodate requests for fully custom colors that are not in our stock list, contact us for details and costs.
Custom Logo - We can remove the Backblaze logo at no cost. However if you choose to replace the logo with your company logo there is a charge of $80 for a cutout logo or silkscreen logo.
Will you customize the internal components?
Yes, we regularly customize internal components for our customers, and we make the process simple and convenient. Please contact us with details and we will provide a custom quote. We regularly change memory sizes, motherboards, processors, and add SSD Boot Drives.
What is the lead time?
Standard &amp: Redundant Pods - tested and assembled.
Lead time is 5 - 7 business days to ship from our factory
Enclosures Only
Lead time is 2 - 3 business days to ship from our factory
Customized Pods
Lead times will vary. Contact our sales team for details.
What does Redundant mean?
Understanding Power Supplies: Single vs Dual vs Redundant
Dual supply vs. Single Supply: The original Backblaze specification utilized two non-redundant power supplies to supply the amount of current necessary to run 45 hard drives along with the rest of the system. Recently, 45 Drives re-engineered the pod to take advantage of improvements in power supply capacity, and now all of our standard offerings have a single supply. This translates into a lower system cost, and reduces the number of potential points of failure. (We can still supply dual-supply configurations, but this is only necessary in very special circumstances).
Non-Redundant vs Redundant: Backblaze operates a huge array of storage servers, and uses software based strategies to protect against data loss should a server go offline. However, many users who have have adopted the Backblaze Pod, use a small number of machines in fairly critical applications where downtime would be expensive. In response, 45 Drives created a version with 'enhanced redundancy' and is designed to withstand a failure of the boot drive or the power supply without shutting down the unit. This enhanced redundancy allows you time to source replacement parts from us while the unit maintains production. There are two main improvements:
The redundant pod system provides you with a three module power supply. Two modules are required to run the unit, and the third stands by until a module fails. Module triggers an alarm, and you can then simply hot swap the faulty unit, thereby recovering redundancy without shutting down the system.
The boot drive is mirrored to a second boot drive (typically software RAID 1). Should a boot drive fail, the other will maintain operation until the faulty boot drive is replaced (it can be hot swapped).
Criteria for choosing standard vs redundant: The standard version costs less than the redundant version. If the cost of potential downtime is less than the cost differential, then the standard unit will give best value. If not, you should seriously consider the value offered by the redundancy.
Which file formats do I send for a custom logo?
If possible, please provide vector graphics (.EPS, .SVG, .AI or .DXF files) for your custom logo. If these file types cannot be provided, please provide a high resolution PNG. Please note that .PNG files may cause a delay in your order. We will be sure to contact you if this occurs.
What is my warranty?
We have a parts only replacement warranty for 1 year after purchase. After this time period, manufacturer's warranty of individual parts applies.
What currency do we work in?
Our default currency is in USD. However, if you would find it more convenient, we can quote, invoice, and accept payment in GBP, EUR, and CAD. Pricing in alternate currencies will be based on the USD price, using our effective conversion rate, and we will hold alternate currency pricing for 30 days.
How can I pay?
We accept all major credit cards (VISA, AMEX and Mastercard), wire transfers, and cheques drawn on major banks.
What is the normal shipping time?
In North America, our shipping time is 2 days and your quote will include shipping with this shipping method. Outside North America, our shipping can vary from 3 business days to 10 business days, depending on your location and method of shipping chosen. Again, quotes will include air-freight shipment. If you wish to purchase a larger order, ocean shipments can be arranged - please contact us if this is your desire.