Video Production Data Storage: What you need to know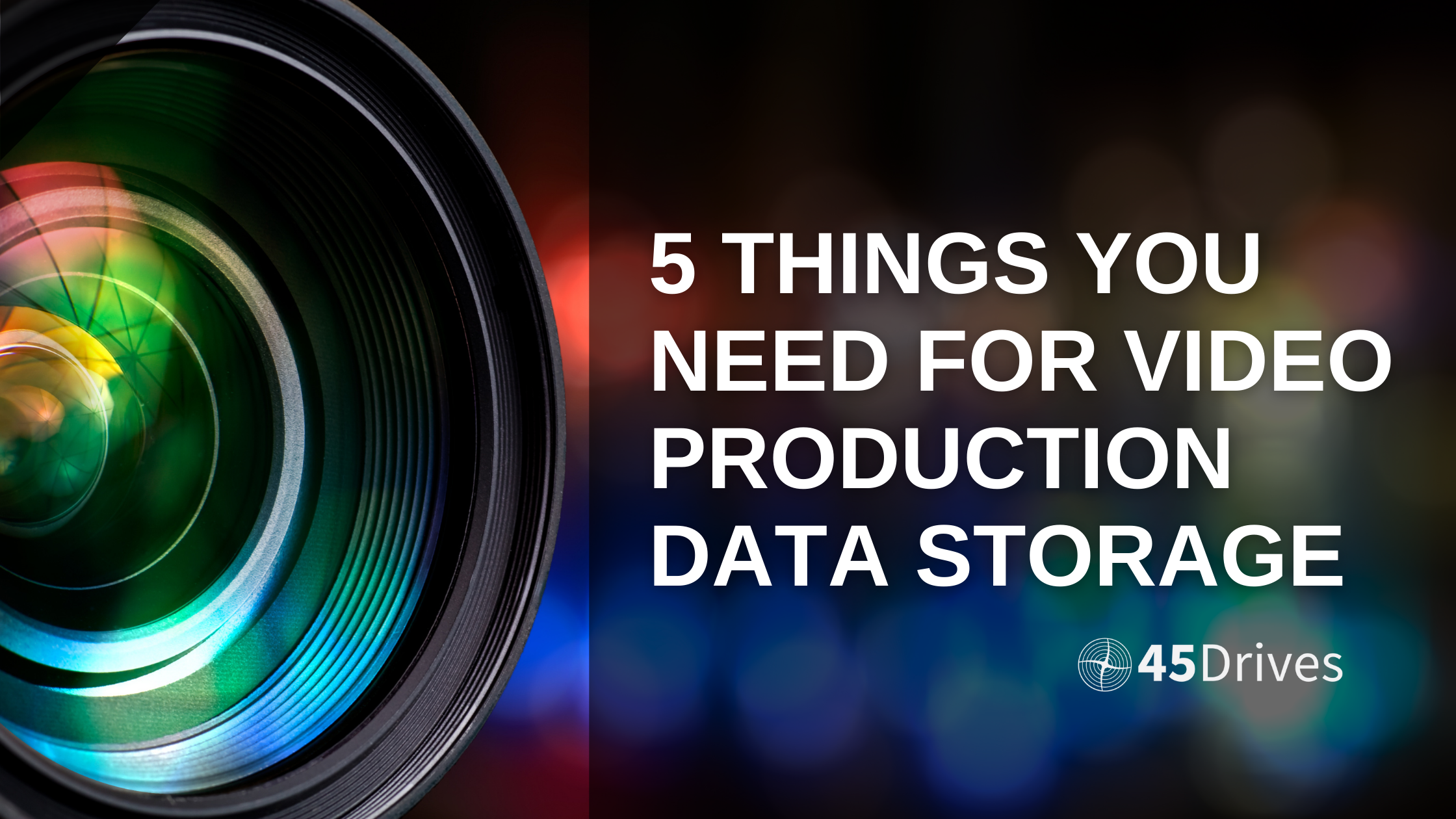 Cameras are producing more and more data, especially with 4k transitioning into the new defacto-standard. With this explosion in data, there has been an increased need for large-scale data storage that is affordable and fits into your workflow.
Chances are, if you're reading this, you are the video experts and don't spend all day thinking about data storage. The world of data storage is full of industry jargon and obfuscation. If you are in the video production industry and are tasked with storing all your files, you may have been wondering, "What exactly do I need out of my storage?"
Welp, you've come to the right place. Here are five essential tips for video production data storage.
Suppose you're like most people we've spoken to right now. In that case, you probably have an ever-expanding number of external drives or small, direct-attached RAID systems that you will use until they are nearing capacity, then label and store. This system can work if you are bootstrapping and a storage solution is currently not in your budget. However, eventually, you will run into issues with scale, organization, or failing drives.
Minimizing needless data transfers and bottlenecks is something all good storage solutions will do for you. Having a single centralized repository of "online" storage (meaning easily accessible, not "online" as in on the Cloud) will be a huge boost to your team. No more asking to borrow external drives or transferring files to your workstation. A good solution will allow you to connect over the network and work directly without creating any bottlenecks. This is especially relevant if multiple people work with the same files.
If you're not sure what type of data storage solution you need or how much data you require, fill out our questionnaire. After you answer a few quick questions you will get a quote for a custom storage solution – designed for your needs. Just click here.
It is essential to have a plan for your data that includes a smooth workflow, complete with backups and recovery plans for failure. You work hard to create your video files; it's not worth the risk of losing them. Having a plan in place will ensure everything flows smoothly once you bring your files back to the office—so you can turn projects around as quickly as possible. You should know where your data is coming from and going to at every stage of your projects.
Backups, and backups of those backups
I mentioned backups in the previous point, but it bears repeating (and then a few more times in the header for this section) that you need backups. Do not risk losing files. It can be as simple as having an LTO drive or a secondary server in an offsite location. Still, you need your data in a place far enough away from your primary storage that you would still be able to recover if something were to happen to it.
Check out this blog for a guide on basic backup strategies.
Some expertise with your storage
It is really important to be familiar enough with your storage solution that if something takes it offline, your team will be prepared to deal with it. Luckily, the experts don't need to be you or directly on your staff, just make sure you have someone who will help when things go down so that nothing hits your bottom line. Of course, it is good to have some working IT knowledge yourselves, but we've seen plenty of people come in with zero familiarity and work up some experience over time. Luckily, it is becoming easier to manage your server for routine tasks.
However, storage systems can always have unexpected things happen, so you don't want to be stuck scratching your head if something goes wrong while your projects' deadlines loom. Having someone to turn to who can help you get back up and running as quickly as possible is essential to a good storage solution, which is generally why support options come at such a premium from legacy storage vendors.
Performance that won't slow you down, at a cost you can afford
When you have multiple people editing off of a storage server, one person's work mustn't be detracting from another. Your storage solution should be capable enough of servicing your entire team's needs without creating bottlenecks. However, purchasing a server that can service a whole team can be very expensive.
There are ways of servicing performance requirements while minimizing costs. One of these ways is to tier your storage. An example would be having a super-fast (maybe even SSD) storage tier, paired with a still usable tier of hard drives for the least frequently used assets. Then, you can use a third tier of cold storage on even older hardware for assets you think will no longer be needed but you want to save. This is an example; there are many ways to engineer your infrastructure to best suit your team, workflow, and environment.
The good news? 45Drives can help with all that, from SSDs to cold storage. With complete support and the most affordable prices on the market due to the open-source model, 45Drives is the perfect partner for your data storage. Reach out today to find out how 45Drives can work for you.