Storinator XL60:
Ultra-dense storage for massive applications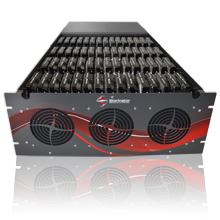 The XL60 is our biggest and most cost-effective storage server. This ultra-dense storage server is great for massive applications and can store up to 720TB of RAW data using 12TB drives. These servers are
designed for organizations with extremely demanding storage needs
. Complete with a redundant power supply, SSD boot drives, a twin-port 10-GbE NIC and twin 1GBE NIC the XL60 comes in multiple standard CPU/memory/motherboard configurations, enabling you to choose your required specifications.
Product Features:
IPMI - Remote system management and monitoring.
PMBus - Remote power management of individual modules as well as power statistics
Redundant boot drives
Choose an XL60 Configuration
*when configured with Windows 10.
* please see
our FAQ
for information on staggered spinup with the XL60.