Tech Tip: Direct-Wired Architecture of the Storinator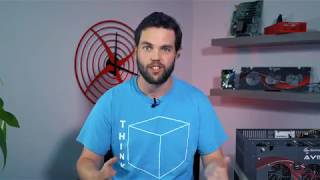 Ever wonder how we make our storage servers so fast? Well, you're in luck! In this weeks tech tip, our lead engineer Brett Kelly is talking about the architecture of our Storinator storage servers.
Check out the video below to find out how we wire our storage servers and how we make them super-fast!
The Storinator is essentially a bunch of hard drive disks (HDD) or solid-state drives (SSD) of we are talking about the 45Drives all-flash Stornado storage server, attached to a motherboard. How do you attach all these HDD's to a motherboard and get all that wonderful speed that we offer? Well here are numerous different ways to do it in the field.
Some vendors use backplanes or SAS expanders – there a couple ways to solve this problem but what we do is we employ a direct-wired architecture.
With the Storinator direct-wired architecture, there is a 1 to 1 connection for the drive to the system with the full throughput of each drive in the server. The drives connect through a card called the LSI 9305. The LSI 9305 is the standard option although others are available.
This card has 4 ports, each of the ports available to connect to 4 SATA or SAS hard drives. Connected to the LSI card is a custom cable that connects on one end to the LSI card through an SFF8643 which fans out to 4 SATA connectors. This way there are 4 drives per port which work well with the 15 drives per row that connect to one card. Connecting the cables this way provides high bandwidth you've come to expect from the Storinator. The LSI 9305 is a JBOD card that is perfect for software RAID.
Here's a fun fact: JBOD stands for "Just a Bunch Of Disks" and JBOD cards are great for software-defined solutions because they present the drives to the system without any sort of abstraction. Unlike what you would find in a hardware RAID card.
If you want to know more about the Storinator's direct-wired nature check out our blog that explains our decision to move away from backplanes, found here.
Don't forget to subscribe to our YouTube page for a new tech tip every Tuesday!
New #Techtip every Tuesday at 3pm on our YouTube page.
Don't forget to hit subscribe to be the first to see new videos, updates, tech tips and more!