The Jeff Geerling Inspired Storinator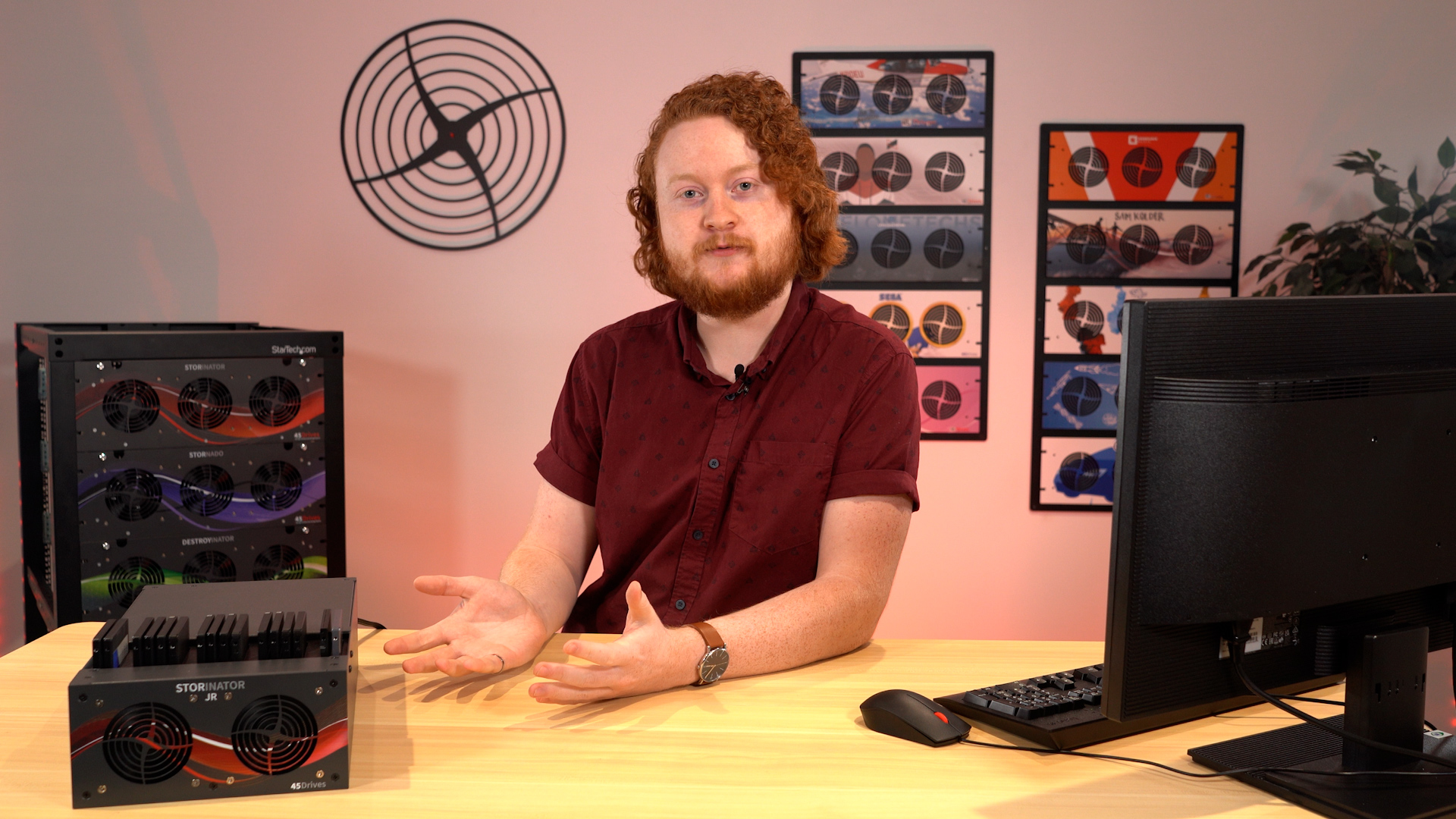 We dropped a mini Storinator into the Reddit ocean and got a lot of ripples last week. This teaser photo of the "Storinator Jr" generated many questions about what this mini Storinator is — so let's dive in and tell you all about it.
This little project started when Jeff Geerling's work with Raspberry Pi-based mini storage systems inspired one of our 45Drives R&D Engineers, Josh Boudreau. The Storinator Jr. became his pet project as he wanted to see if he could build a Storinator with ZFS and some other 45Drives staples, such as the high drive count and LSI cards but way smaller, while running on a Raspberry Pi.
Enter the Storinator Jr.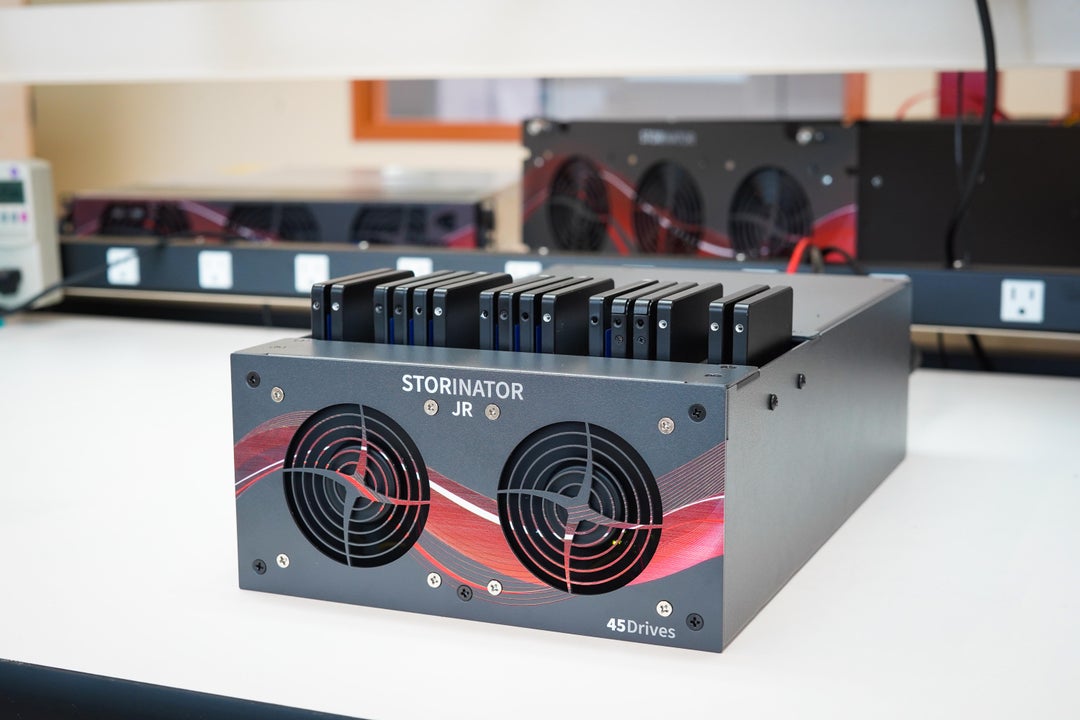 Prototyping the Storinator Jr. wasn't without its challenges. The Raspberry Pi kernel Josh used recently got drivers for SATA devices but didn't have drivers for the LSI card he wanted to use. This challenge meant he would need to fork the Linux Kernal from Raspberry Pi and add in the driver LSI before recompiling.
Compiling a kernel on the Raspberry Pi took Josh and the team upwards of an hour. So, to speed up the process, they decided to cross-compile the kernel in a Docker container environment, which took about 15 minutes.
Josh also ran into some issues with the ZFS kernel, which he spoke with Jeff Geerling about. Jeff had a similar issue getting an HBA card to run on a Raspberry Pi-based system and offered up some great advice which he talks about in this interview.
So, now that it's built is this little guy noisy? As it is, the Storinator Jr can comfortably sit on a desktop. The only noise comes from the two front-facing fans you can see in the picture below. Since it is SSD-based, the drives create virtually no noise.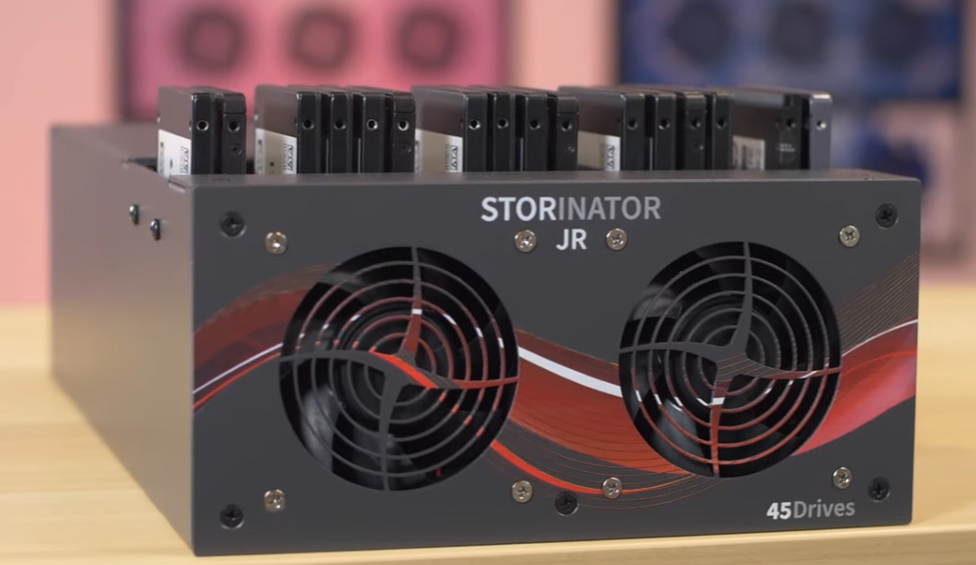 But, it's not for sale — just yet.
As most people know, the Raspberry Pi has a lot of limitations. The Ethernet port is only a 1Gb ethernet interface, so the CPU only runs at 700 megahertz. As well, the PCI only has one lane. Generally, the cards we use have eight lanes of PCI. To sell this mini server, we would have to make large changes to the design and revaluate the bottlenecks.
As mentioned before, this was a pet project of one of our R&D employees who was inspired by Jeff Geerling's work. To get the Storinator Jr. into a state where it would be a viable product to sell, we would need to address many issues with the current design. That is not to say that it will never happen, especially if there is interest from our customers and fans.
Let's face it, having a portable, battery-powered, super-dense, open-source storage server to work on does sound pretty exciting. But for now, we aren't making any promises.
But, we'd love to hear from you and see if the interest is there and how you would use it in a work environment – let us know what you think! Email us at info@45drives.com.