Tech Tip: Setting Up Remote Management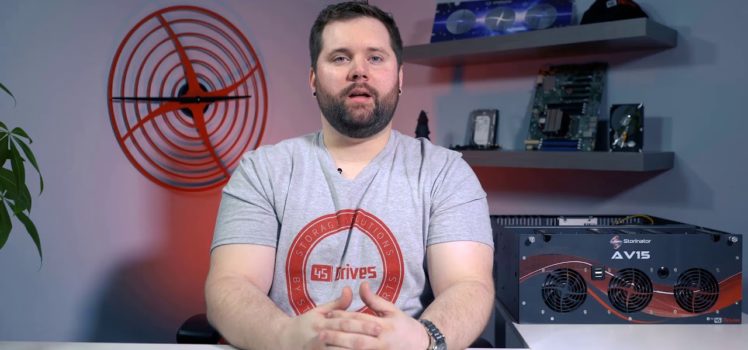 Each week we release a 45Drives Tech Tip from one of our team members. These short tech tips videos cover some of the most frequently asked questions we receive from storage users, customers. fans and followers.
We cover topics such as network bonding with CentOS, Storinator on the Cloud, using Ansible for your IT infrastructure, and the direct-wired architecture of the Storinator – with a lot more to come! The best part of these videos is they are under 5 min each!
This week, Mitch teaches us how to set up remote management using IPMI on your Storinator.
Check it out below!
Hi, I'm Mitchell from 45Drives with a video where we give you 45Drives in 45 seconds. Today I'm going to be talking about setting up the remote management interface for your Storinator.
Storinators use a remote management interface called IPMI, which stands for intelligent platform management interface. This is an open source industry-standard platform that is designed to manage servers over a network. IPMI gives you the ability to control the power of your server, monitor power supply statistics and troubleshoot and repair the system all from a BIOS level, all from a remote location.
How to set up IPMI:
Plug one end of an Ethernet cable into a port on your motherboard and the other end into your network switch.
Access the bios by pressing the delete key when presented with the Supermicro splash screen upon booting up your Storinator.
Go to the IPMI tab, then to BMC Network Configuration.
From here you can choose DHCP to allow an address to be assigned from your local DHCP server, or set a static IP which is recommended.
Save your changes and reset the server.
Open another machine on your network and an internet browser. Type the address assigned to the IPMI port, this will bring up the IPMI login page.
Login into IPMI. The default credentials are:

Username: "ADMIN"
Password: "ADMIN"

From here, you can access the IPMI web GUI and have access to a wide range of remote features.
You can gain full control of you Storinator from here through a Java application. Just click on the window inside the remote console preview to download a JNLP file which will open a remote terminal with Java.
One final note, there is also a list of saftey features we recommend setting up in order to make your IPMI connection as secure as possible. These features are outlined and much more in our blog post found here. Thanks for watching and be sure to tune in next Tuesday where we give you another tech tip.
45Drives IPMI article can also be found here.
Head over to our YouTube channel and hit subscribe! New tech tips every Tuesday at 3 pm ADT!